Salon is now an archive.
New site here
This site's archives
---
18 February 2009 at 6:54:38 PM
salon

Ms Not-So-Ethical has to pay taxes on that per-diem ripoff. From the Alaska Daily News.

Gov. Sarah Palin must pay income taxes on thousands of dollars in expense money she received while living at her Wasilla home, under a new determination by state officials

The governor's office wouldn't say this week how much she owes in back taxes for meal money, or whether she intends to continue to receive the per diem allowance. As of December, she was still charging the state for meals and incidentals.

"The amount of taxes owed is a private matter," Sharon Leighow, Palin's spokeswoman, said in an e-mail. "If the governor collects future per diem, those documents would be a matter of public record."

Oh. Okay. Woudln't want anyone to find out the exact amount of her ripoff.

Side note: This is amusing-her baby-mama daughter says that abstinence training isn't realistic at all. Duh!

Amid the questions over her public agenda, her family continues to make headlines. In an interview with Fox News, her 18-year-old daughter, Bristol, who gave birth to a son late last year, said that the decision to go ahead with her unplanned pregnancy was hers alone and that teaching abstinence to teenagers, a concept supported by her mother, is "not realistic at all."

And, even her own GOP cronies call her "Dan Quayle With a Ponytail"-bwahahah and it rhymes too!


Permalink Tags: sarah palin back taxes per diem
Views: 1684
Latest Blog Post by salon -Video- Somervell County Commissioners Court Special Sessions (2) Dec 23 2019
More Posts You Might Enjoy
Palin Too Good To Pray With the McCain Bunch...
Hah! Sarah Palin Has to Reiumburse Alaska for $7000 Bucks of Travel Expenses Inv. Her Kids
How Much DID the RNC Spend on Palin's Now-Trash-Bagged Clothing?
Just a Quick Snark-Seems like Lately I've Seen More Women Dressing Like Sarah Palin
Somervell County Salon Blog is now an archive site. Commenting not enabled.

Comments!
---

1 - Jinksy 19 Feb 2009 @ 10:21:00 AM My first thought - so what. The quote "under a new determination by state officials" kinda explains it all. Its a situation that has just been included as taxable income and thus brought to her attention - so what. If she doesn't pay it then you might have something to discuss.

---
2 - salon 19 Feb 2009 @ 10:32:38 AM
Taxes aside, she was unethical in the first place by billing per diem that was supposed to travel expenses for business, not for choosing to live in her own home and travelling back and forth.
Latest Blog Post by salon -
Video- Somervell County Commissioners Court Special Sessions (2) Dec 23 2019
---

3 - a slave to taxation 19 Feb 2009 @ 10:34:35 AM it's not a so what. she is living on public dollars, and this issue is not something that just came up. she also owes for being a mayor, and that was moonage daydreams ago. she is stealing from the public coffers. people like you, who excuse cheats also complain about your own taxes, that you do pay. seems to me the country is bankrupt. everyone should pay their fairshare....yes, including your idols.

---

4 - Jinksy 19 Feb 2009 @ 10:52:16 AM Whooa folks! Let's put my words into context - I said the quote "under a new determination by state officials" eluded to the situation being new and correctly handed to her for payment. This could be a situation that anyone could encounter and I wouldn't judge them as being tax cheats. Name me one person that could tell you the correct interpretation of the tax laws and I will show you someone who thinks they know the tax law. salon - what is unethical about being informed about a new determination on tax payment? Slave - how do you profess to know what I think? Beware of your own issues because when you speak you tell volumes about the trouble that exists in your own mind.

---

5 - JAFO 19 Feb 2009 @ 11:16:32 AM I think the point that I would make is that there is sometimes a double standard, Jinksy. Some of the same people who scream about Geithner or Daschle not paying taxes that they owed under relatively obscure sections of the tax code will gladly excuse Governor Palin's not paying her taxes because she claims she did not know what the tax law was on this subject. While you may not be one of those people, there are plenty of such people out there. Kind of like Rush Limbaugh who rants about drug offenders deserving prison, until he himself gets caught in the net. There are honest mistakes, and then there is "gaming the system." The fact that the Governor charges the State per diem expenses for living in her own home leads one to believe that this is a case of the latter.

---

6 - Jinksy 19 Feb 2009 @ 1:00:05 PM Folks - Based on the information provided on this page, not from any other source, I made the observation that she is at the whim of a "new determination". How can anyone say she is a

---
7 - salon 19 Feb 2009 @ 1:15:24 PM
the information provided on this page is always sourced. Alaska Daily News is one link and another is the Washington Post. My links on this page also have sources.
Latest Blog Post by salon -
Video- Somervell County Commissioners Court Special Sessions (2) Dec 23 2019
---

8 - Jinksy 19 Feb 2009 @ 3:26:01 PM salon - I appreciate that it is sourced. I understand that this article came from sources. Still doesn't change my position on what slave and jafo stated. This is what it is.

---
9 - salon 19 Feb 2009 @ 3:40:51 PM
In the ADN article:
Last fall we raised questions about longstanding practices within the Department of Administration regarding tax treatment of per diem payments," Kreitzer wrote in an exchange of e-mails over the past few days with the Daily News.
"At the Governor's request, we reviewed the situation to determine whether we were in full compliance with the pertinent Internal Revenue Service regulations," Kreitzer wrote. "As a result of this review, we determined that per diem needs to be treated as income, requiring a revision of W-2 forms for any affected employees."
It is not becuase this is some kind of new situation, but because Palin wasn't in compliance before, she was being questioned about it (despite the pretty spin that she was concerned about it initially herself) and in order to be in compliance, she needed to pay back taxes. The per-diem deal was not ethical, and I continue to believe that. The fact that she, as governor, didn't make sure she was in compliance with the tax code before doesn't let her off the hook now that she realizes she needs to cough it up.
Latest Blog Post by salon -
Video- Somervell County Commissioners Court Special Sessions (2) Dec 23 2019
---

10 - Jinksy 19 Feb 2009 @ 6:33:45 PM I think I'm beginning to understand your basis for thought. You have a passion for ethics and feel you have caught a politician at their worst - I respect that. Still hear desperation in your argument, though, when you refer to "spin" in order to make the situation tilt toward your conclusion. Spin is short for "their story isn't as good as mine" and makes me believe the point is more opinion that real.

---
11 - salon 19 Feb 2009 @ 6:48:26 PM
Oh, please. No desperation there Give it a rest.
Latest Blog Post by salon -
Video- Somervell County Commissioners Court Special Sessions (2) Dec 23 2019
---

12 - Jinksy 20 Feb 2009 @ 3:55:31 PM I'm smiling - thanks for the conversation.

---
---



Guest


Today Is
Friday, September 17, 2021

---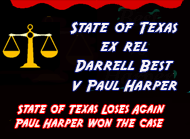 Latest Posts

More Blog Headlines