Salon is now an archive.
New site here
This site's archives
---
5 February 2009 at 9:30:17 PM
Somervell County Salon Blog is now an archive site. Commenting not enabled.

Comments!
---

1 - Kelly 7 Feb 2009 @ 6:59:12 AM I very much question this Judges "judgment". Some people are just jealous and bitter and can't help themselves, but this one is paid for good judgment and it would seem that is not the case here.

---
2 - pharper 7 Feb 2009 @ 10:25:36 AM
I, as a parent, also see Palin as using her (or her daughters) baby as a prop. She did it throughout the campaign and it made me sick to view such a selfish display.
Latest Blog Post by pharper -
Paul Harper offered to settle State of Texas ex rel. Best v Harper lawsuit for $68k back in 2016
---
3 - Patricia Moody 15 Sep 2010 @ 1:54:46 PM
---
---



Guest


Today Is
Saturday, August 13, 2022

---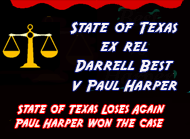 Latest Posts

More Blog Headlines