Salon is now an archive.
New site here
---
1 January 2009 at 5:14:28 PM
pharper

Last night at approximately 2am a fire was reported on County Road 2018, a dead end road many know as Daddy Hankins Road. The fire was a large pile of trees on the north side of the road that were taken out of a creek area that had been cleared for a new pond. The owners of the property did NOT start the fire but did contact the local fire dept., initial reports are that many people actually called in to report the fire besides the owners. The fire department came out to assist in making sure the fire did not spread but they did not have the capacity to put out such a large fire.


Permalink
Views: 1046
Latest Blog Post by pharper -Paul Harper offered to settle State of Texas ex rel. Best v Harper lawsuit for $68k back in 2016
Somervell County Salon Blog is now an archive site. Commenting not enabled.

Comments!
---
---



Guest


Today Is
Monday, January 25, 2021

---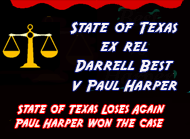 Latest Posts

More Blog Headlines