Salon is now an archive.
New site here
This site's archives
---
3 November 2008 at 1:50:25 PM
salon

Hah! She might skate in over the line without any substantive press conferences or medical records, but when McCain LOSES, as he will, and SHE decides to try to make a run for it in 2012, there will have been plenty of time for her to release those dang medical records. Until/unless she does, the fact that the hospital where she says she gave birth to her son Trig has no record of that birth is suspicious.


Permalink
Views: 1676
Latest Blog Post by salon -Video- Somervell County Commissioners Court Special Sessions (2) Dec 23 2019
Somervell County Salon Blog is now an archive site. Commenting not enabled.

---
---



Guest


Today Is
Friday, September 17, 2021

---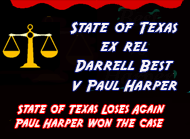 Latest Posts

More Blog Headlines