Salon is now an archive.
New site here
This site's archives
---
12 October 2008 at 9:51:57 AM
salon

I saw *The Kite Runner* movie a few months ago and it was outstanding. All about a couple of little boys who fly kites in Afghanistan and are best friends. I can't say too much about the plot or it would spoil it for you, but it was a very moving film. From IMDB

Firstly, let me say it, that even though in my opinion the book was better than the final product of the movie, it is by no means a bad adaptation. I mean for a two hour movie it's got the deserved response. Things do appear a tad fast in the final twenty odd minutes, but apart from that it has succeeded what the book did. It has captured the minds and imagination of millions all across the globe. The magic woven by Khaled Hosseini, to give us a sense of remorse of joy, of sadness, of pain, of loyalty is astute in this adaptation. Especially in the very first scene, when young Hassan says, "If you tell me to eat dirt, I will. but I know you won't ask me to." Such a touching line, is bound to capture the hearts of many. The two young actors were brilliant, absolutely superb. Especially the boy who played the innocent but loyal Hassan, a boy, who refuses to give up a kite he caught because he promised his best friend that he would bring it to him, only to be abused by large bullies who beat him up and use him sexually, and then to be rebuked by his best friend as a coward. The entire act is so touching that it cannot but wet your eyes.


Now to the Afghanistan native's comments about the McCain campaigns attempts to use the name "Hussein" as a fear-mongering tool.

I prefer to discuss politics through my novels, but I am truly dismayed these days. Twice last week alone, speakers at McCain-Palin rallies have referred to Sen. Barack Obama, with unveiled scorn, as Barack Hussein Obama.

Never mind that this evokes -- and brazenly tries to resurrect -- the unsavory, cruel days of our past that we thought we had left behind. Never mind that such jeers are deeply offensive to millions of peaceful, law-abiding Muslim Americans who must bear the unveiled charge, made by some supporters of Sen. John McCain and Gov. Sarah Palin, that Obama's middle name makes him someone to distrust -- and, judging by some of the crowd reactions at these rallies, someone to persecute or even kill. As a secular Muslim, I too was offended. Obama's middle name differs from my last name by only two vowels. Does the McCain-Palin campaign view me as a pariah too? Do McCain and Palin think there's something wrong with my name?

The real affront is the lack of firm response from either McCain or Palin. Neither has had the moral courage, when taking the stage, to grasp the microphone, turn to the presenter and, right then and there, denounce the use of Obama's middle name as an insult. Instead, they have simply delivered their stump speeches, lacing into Obama as if nothing out-of-bounds had just happened. The McCain-Palin ticket has given toxic speeches accusing Obama of being a friend of terrorists, then released short, meek repudiations of some of the rough stuff, including McCain's call Friday to "be respectful." Back in February, the Arizona senator apologized for the "disparaging remarks" from a talk-radio host who sneered repeatedly about "Barack Hussein Obama" before a McCain rally. "We will have a respectful debate," McCain insisted afterward. But pretending to douse flames that you are busy fanning does not qualify as straight talk.


Permalink Tags: klaled hosseini barack hussein john mccain fanning flames
Views: 1681
Latest Blog Post by salon -Video- Somervell County Commissioners Court Special Sessions (2) Dec 23 2019
More Posts You Might Enjoy
Foo Fighters Don't Want Grumps McCain Playing their Music... EITHER
John McCain Said, in 2000 Presidential Bid, that US Troops Were Killing Innocent Civilians
WHEN Will John McCain DENOUNCE Those Who Call Obama a Terrorist and Threaten to Kill Him?
Cindy McCain Agrees With Obama-No More Smear Tactics! From 2004
Somervell County Salon Blog is now an archive site. Commenting not enabled.

---
---



Guest


Today Is
Friday, September 17, 2021

---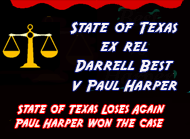 Latest Posts

More Blog Headlines