Salon is now an archive.
New site here
---
16 September 2008 at 8:34:47 AM
salon

What in the fool is Galveston hiding?

Before the press conference Monday, LeBlanc asked reporters whether he could go off the record. Some television crews agreed and turned their cameras off. LeBlanc then asked news crews to urge their bosses and managers to show more coverage of the island on television because evacuees didn't care about what was happening in Houston.

Reporters staying at the city's emergency operations center at the San Luis Hotel were asked to leave Monday. San Luis hotel owner Tilman Fertitta was housing reporters at the nearby Hilton Hotel, which he also owns.

Reporters would be allowed on the island only if they had proper identification, Thomas said. She didn't clarify what that meant.

Reporters were also forbidden from visiting areas on the far West End, Thomas said. She did not explain why.



Permalink Tags: galveston media access
Views: 675
Latest Blog Post by salon -Video- Somervell County Commissioners Court Special Sessions (2) Dec 23 2019
Somervell County Salon Blog is now an archive site. Commenting not enabled.

---
---



Guest


Today Is
Monday, January 25, 2021

---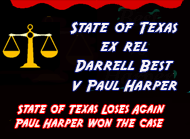 Latest Posts

More Blog Headlines