Salon is now an archive.
New site here
This site's archives
---
15 August 2008 at 2:54:42 PM
salon

THIS IS NEWS?

The reason why this is considered news was summed up rather well by a reader commenting on The Watchdog's last Trinity post: "What is a non-profit organization doing holding $327 million in mortgage-backed securities?" the reader noted. "Aside from the risk in such an investment, it implies that the ministry has enough extra dough lying around (not going to ministry purposes) to buy speculative investments….I can't believe they have enough money for speculative investments and then go on the air and ask for more dough!"

If Trinity did not have nonprofit status from Uncle Sam, it would likely be paying millions upon millions in taxes each year into public coffers.


Permalink Tags: Trinity Broadcasting crouch scam
Views: 2006
Latest Blog Post by salon -Video- Somervell County Commissioners Court Special Sessions (2) Dec 23 2019
Somervell County Salon Blog is now an archive site. Commenting not enabled.

---
---



Guest


Today Is
Monday, February 6, 2023

---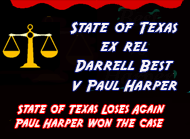 Latest Posts

More Blog Headlines