Salon is now an archive.
New site here
---
19 February 2008 at 10:09:37 AM
salon

Ugh. I was pretty disgusted when I read about how Clinton was going to try to get the results from two primaries in which she AGREED in the first place that the results weren't going to count., and in which the other candidates who DID respect the rules didn't actively campaign. Rules Are Not For Clintons. And I'm more than disgusted with her attempt to override the popular vote within the Democratic party by using superdelegates to trump the will of the voters. And now I read of yet ANOTHER way that Clinton wants to game the system-this blog piece says she would "offer incentives" for delegates to switch from Obama to Clinton. Let's just call that what it is, shall we? Unprincipled BRIBERY.

And the Democratic party heads think all of this is okay?


Permalink
Views: 889
Latest Blog Post by salon -Video- Somervell County Commissioners Court Special Sessions (2) Dec 23 2019
Somervell County Salon Blog is now an archive site. Commenting not enabled.

---
---



Guest


Today Is
Monday, January 25, 2021

---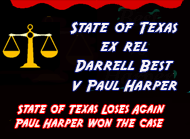 Latest Posts

More Blog Headlines