Salon is now an archive.
New site here
---
18 February 2008 at 12:39:57 PM
joe

Are you already tired of hearing about the Clintons? Hillary Rodham Clinton now revised to Hillary Clinton, Bill Clinton and his women (yes, there were many), and now Chelsea is on the front page of cnn's political page?

Can we have a president who doesn't have a ton of drama in their life please? I am sick and tired of hearing about the Clinton's!!!...Hillary this, Bill that...geez. I know the Republicans would love to have a Clinton against them because Clinton's motivate the Republican base. As someone said recently, "I don't know a Republican who won't go through hell or high water to vote against a Clinton".


Permalink
Views: 667
Latest Blog Post by joe -Women choose Internet over Sex
Somervell County Salon Blog is now an archive site. Commenting not enabled.

Comments!
---

1 - babsintx 18 Feb 2008 @ 4:11:35 PM
I saw your comment in the Washington Post article about Clinton's campaign being surprised by Texas' odd primary/caucus rules. Just to remind you, if you are supporting Obama you wait until Election Day to vote so you can participate in the caucus that night for Obama.
---
2 - salon 18 Feb 2008 @ 10:28:33 PM
I'm going to assume, charitably, that you aren't familiar with the Texas Democratic Party rules, which I have put on a separate post. (I do think your comment reminds me of Republicans who tell Democrats that the voting actually takes place on a Wednesday, so that they miss their chance to vote). Anyway, the point is that it doesn't matter if you early vote or vote on election day, you simply must have verification that you voted and then ANYONE who voted in the primary on whatever legitimate day, can participate in the precinct convention.
Latest Blog Post by salon -
Video- Somervell County Commissioners Court Special Sessions (2) Dec 23 2019
---
---



Guest


Today Is
Sunday, January 24, 2021

---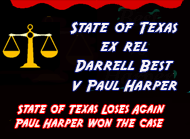 Latest Posts

More Blog Headlines