Salon is now an archive.
New site here
---
18 November 2007 at 2:25:30 PM
salon

Since frontier times, Texans have cherished and insisted on their privacy and their anonymity. For Texans, not only was this part of rugged individualism and innate distrust of government, but it was part of their desire to start over in their lives and live the way they wanted.

Now, however, the federal bureaucrat Donald Kerr, the principal deputy director of national intelligence, is telling us we need to give up our anonymity in the name of national security. In other words, he wants to let the government compile dossiers on each American, he said at an October conference in San Antonio.

Our privacy and anonymity are already compromised enough as it is. We have to surrender anonymity to Internet commerce, for example. Commericial Web sites reveal to the public, government and corporations what was once closely guarded information, like personal statistics and credit card numbers.

That doesn't mean we need to go one step further, as Kerr argues, and give up whatever privacy and anonymity is left so that the government can compile a dossier on each of us "to protect us." His argument is exactly what George Orwell warned against in his book "1984."


Permalink
Views: 499
Latest Blog Post by salon -Video- Somervell County Commissioners Court Special Sessions (2) Dec 23 2019
Somervell County Salon Blog is now an archive site. Commenting not enabled.

---
---



Guest


Today Is
Monday, January 25, 2021

---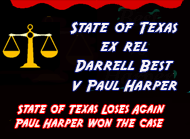 Latest Posts

More Blog Headlines