Salon is now an archive.
New site here
This site's archives
---
16 November 2007 at 7:03:00 PM
pstern

Yes, I'm talking about Gov. Rick "39-percent" Perry!

Several years ago Texas Gov. Rick "Special Interests" Perry put on his ten-gallon Stetson, saddled-up his tax-paid plane and rode all over the state lobbying to eliminate what he and his special interest health care industry called "frivolous medical malpractice lawsuits."


Permalink


Views: 1952
Latest Blog Post by pstern -Who funds ISIS?
Somervell County Salon Blog is now an archive site. Commenting not enabled.

---
---



Guest


Today Is
Sunday, November 27, 2022

---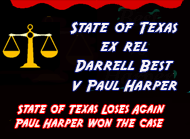 Latest Posts

More Blog Headlines