Salon is now an archive.
New site here
This site's archives
---
8 November 2007 at 1:25:41 PM
salon

I ask again, WHAT does the Bush adminstration have to hide??? From the WAll Street Journal

The Bush administration blocked a Marine Corps lawyer from testifying before Congress today that severe techniques employed by U.S. interrogators derailed his prosecution of a suspected al Qaeda terrorist.

The move comes as the administration seeks to tamp down concerns about detainee policies that flared up after attorney general-designate Michael Mukasey declined to tell senators whether he believes that waterboarding, or simulated drowning of prisoners, constitutes torture. The debate has focused on whether severe interrogation practices, some of which critics consider to be torture, are legal, moral or effective.


Permalink
Views: 1867
Latest Blog Post by salon -Video- Somervell County Commissioners Court Special Sessions (2) Dec 23 2019
Somervell County Salon Blog is now an archive site. Commenting not enabled.

---
---



Guest


Today Is
Saturday, May 28, 2022

---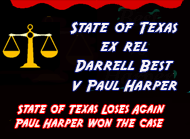 Latest Posts

More Blog Headlines