Salon is now an archive.
New site here
This site's archives
---
3 November 2007 at 1:07:46 AM
joe

B. Allegations of Chayce W.

Throughout the investigation of the allegations by school officials, CPS, the criminal authorities, and SBEC, which began in October 2002 and proceeded through his deposition testimony in May 2006, Chayce wove a web of inconsistency and confusion. Chayce


Permalink
Views: 1632
Latest Blog Post by joe -Women choose Internet over Sex
Somervell County Salon Blog is now an archive site. Commenting not enabled.

Comments!
---

1 - beinformed 5 Nov 2007 @ 12:32:03 AM Did you notice that "one of the few consistencies" in his statements (the color guard change of clothes)was changed on the Dr. Phil show. I guess he finally realized (too late)that it was provable to be lie.



---

2 - joe 5 Nov 2007 @ 9:56:00 AM
Yeah...the one thing he is consistent about is a lie that one can prove.
I was thinking, since his last deposition was in 2006 when he was over the age of 18, I would think he would be liable to be sued, yes? He does own 5.01 acres which is under the name "Lucky Hannah Development" so it's not like he doesn't have anything worth of value.
Latest Blog Post by joe -
Women choose Internet over Sex
---
---



Guest


Today Is
Thursday, May 13, 2021

---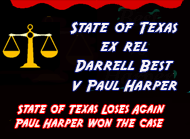 Latest Posts

More Blog Headlines