Salon is now an archive.
New site here
This site's archives
---
29 October 2007 at 4:37:57 AM
salon

I wondered why in the world someone left a comment on the post made here a couple of months ago about Joelle Ogletree, not so much because the poster thinks that Ogletree is dragging Glen Rose through the mud by, um... wanting to CLEAR her name and reputation, but because I wondered, why is poster commenting NOW? I found out tonight from a friend that it's because Ogletree will be on Dr Phil on Thursday and Friday, and apparently one of the boys (now an adult) who accused her of sexual misconduct is going to take a lie detector test. Here's from Dr Phil's website. Part 1, then part 2

Dr. Phil explores a disturbing trend: Female teachers engaging in sex acts with their underage male students. The number of accusations has doubled in the past five years. You've probably heard of famous cases like Mary Kay Letourneau, and Debra LaFave and the recent case of a teacher in Southern California, Meredith Johnson Vincent, who was arrested on suspicion of having a sexual relationship with a 14-year-old boy. Dr. Phil meets one teacher who has chosen to fight back. Joelle Ogletree was a respected high school French teacher until she was accused of sexual misconduct by three of her students. Find out what goes through a mother's head as she faces 160 years in prison. Plus, the Dr. Phil show speaks with one of the boys who says the sexual improprieties absolutely did happen and claims he passed a polygraph examination. When he agrees to take another test for Dr. Phil, what do his answers reveal? Joelle has been banned from even volunteering at her daughter's school because of the accusations. Should she be allowed back in the classroom? Watch and decide: Do you believe her ... or her students?

Dr. Phil continues his look at a teacher sex scandal that has a school and families divided in a small town in Texas. High school teacher Joelle Ogletree faces accusations of sexual misconduct with some of her male students. Joelle claims she's completely innocent but reluctantly agrees to face Matt, one of her accusers, in person. When Dr. Phil drills down into the details of the case, it's her word against his. Matt maintains that when Joelle was his high school French teacher, she came on to him. He says that as a student he received sexually explicit notes from her, but that the notes were written in code. See the encrypted messages and judge for yourself: Are they provocative or harmless? Then hear how Joelle and Matt interpret them. Plus, Matt agreed to take a polygraph test and have the results reviewed by an independent examiner. Find out what the test reveals and how Matt reacts when he hears them read aloud, as he sits face to face with Joelle. Hear both sides of this gripping sex scandal from the accuser and the accused, and judge for yourself if justice has been served.

I don't normally EVER watch Dr Phil, but I guess I'll make an exception for the unctious man this week.


Permalink Tags: joelle ogletree glen rose somervell dr phil
Views: 1650
Latest Blog Post by salon -Video- Somervell County Commissioners Court Special Sessions (2) Dec 23 2019
More Posts You Might Enjoy
Video- Somervell County Commissioners Court Special Sessions (2) Dec 23 2019
Somervell County Judge Danny Chambers is the Logjam at the top of the State of Texas ex rel Best v Harper suit
Video re: Danny Chambers Drag Racing Around the Square In Youth (Glen Rose)
Video-Somervell County Commissioners Court Dec 9 2019 Regular Meeting- FULL
Somervell County Salon Blog is now an archive site. Commenting not enabled.

Comments!
---

1 - txsunshine82 30 Oct 2007 @ 2:55:00 PM
I never believed she did it. I am very proud of her for fighting the charges and trying to get her job back.
---
2 - salon 30 Oct 2007 @ 3:42:23 PM
Here's another comment from another website where the commenter attended 2 days of the trial.
I am so glad you have published this disturbing story. Joelle is standing up for teachers everywhere, especially for the ones in her district, but few appreciate it. The new superintendent is pressing firm with his decision that she is guilty by accusation. I'm sure he got his info from the former superintendent, who left the mess in his lap. It is a shame that he doesn't read the evidence and make up his own mind. I was at the trial for the two days of its duration. I really wondered if she was guilty until I and saw Matt testify. It was soooo incredibly obvious that he was lying. The boys' fathers and grandfathers were in the audience. They saw and heard everything the rest of us did. How the Wilsons can support their son after hearing his co-conspirator testify is beyond belief. It was a good ole' boys court that day. It was obvious the judge was ticked off that the defense had gotten a high powered lawyer from Dallas instead of a local yokel. I believe that when he saw that the prosecution had absolutely nothing, he declared a mistrial. Doug Ogletree had those boys in class for the year preceeding the trial, and as the boys themselves will tell you, he never "intimidated" them, and that he was quite nice to them, which in itself is amazing! I applaud Sam for telling the truth. I know it must have been very hard for him, since his parents and the Wilsons are best friends.
Latest Blog Post by salon -
Video- Somervell County Commissioners Court Special Sessions (2) Dec 23 2019
---
---



Guest


Today Is
Wednesday, June 23, 2021

---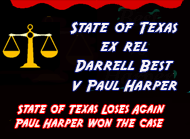 Latest Posts

More Blog Headlines