Salon is now an archive.
New site here
This site's archives
---
24 May 2007 at 5:48:20 PM
salon

Let's see. One of the plants that helps the US with their Nuclear Weapons Program has unionized guards that are on strike. After 6 weeks, the Energy Dept is getting worried and has sent a top security official down to Texas to do an emergency assessment.

The plant, about 17 miles northeast of Amarillo in the Texas Panhandle, is ringed by four layers of security fences, high guard towers with gun ports, and an assemblage of sensors intended to detect a terrorist strike force long before it could reach a weapon.

The Project on Government Oversight, a watchdog group that has focused on nuclear security and safety, called for a shutdown of Pantex operations last week in a letter to Energy Secretary Samuel W. Bodman.

"The current security situation is untenable," wrote Danielle Brian, executive director of the group.

The strike does not appear anywhere near a settlement. The former union president has been accused of holding unauthorized meetings with management, and he quit his post during a chaotic rank-and-file meeting and then crossed his own picket line the next day, Stumbo said.

"We have never seen a situation like this," he said.


Permalink
Views: 1677
Latest Blog Post by salon -Video- Somervell County Commissioners Court Special Sessions (2) Dec 23 2019
Somervell County Salon Blog is now an archive site. Commenting not enabled.

---
---



Guest


Today Is
Sunday, September 19, 2021

---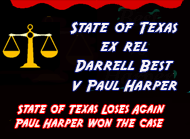 Latest Posts

More Blog Headlines