Salon is now an archive.
New site here
This site's archives
---
27 February 2007 at 8:06:38 AM
salon

I've said before that if you listened to the sales and marketing spin coming out right now, you might believe, erroneously, that concerns about nuclear power plants are a thing of the past. Not so.

Goliad County passed a resolution to oppose the start of uranium mining operations in October 2006 after Uranium Energy Corp. began drilling exploratory test wells. The community fears that uranium mining operations will contaminate their water with dangerous levels of radioactive waste. The company has every intention to continue their drilling and plans on commencing mining in 2009, despite the pleas of local residents and officials.

In nearby Kleberg County, county officials have recently acquired council to aid them in seeking an injunction against Uranium Resources Inc. A 2004 agreement with Kleberg County and URI stipulated that the company could continue mining as long as they repaired the damage done by their original operations. The Environmental Protection Agency warned Kleberg residents in 2005 that their groundwater contained unsafe levels of uranium and strongly advised against drinking it - an indicator that URI has not made good on its word.

Texas already has a long history of uranium mining operations endangering public health through their release of radioactive waste. The town of Panna Maria, the oldest Polish settlement in the United States, became a ghost town after Chevron opened a nuclear waste dump and began mining there in 1977. Shortly after, the town's soil and groundwater supply experienced high elevations of radioactivity. Citizens led massive opposition against Chevron in the 1980s, citing severe health impacts related to radioactive contamination.

According to the EPA, uranium mining releases harmful radioactive waste, such as radionuclides, which include radon, radium and uranium, into surrounding bodies of water, putting people and ecosystems at risk. Exposure to radon has been shown to cause kidney failure, chronic lung disease, and tumors in the brain, bones, lungs and nasal passages.


Permalink
Views: 1730
Latest Blog Post by salon -Video- Somervell County Commissioners Court Special Sessions (2) Dec 23 2019
Somervell County Salon Blog is now an archive site. Commenting not enabled.

Comments!
---

1 - mark krueger 10 Oct 2008 @ 11:15:56 AM
I live about five miles from the proposed Goliad uranium mine, and even closer to the proposed deep-well injection site.
---
---



Guest


Today Is
Saturday, October 16, 2021

---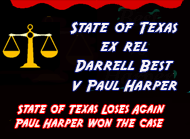 Latest Posts

More Blog Headlines