Salon is now an archive.
New site here
This site's archives
---
14 February 2007 at 10:42:29 AM
joe

Since Bush is on TV today talking about how North Korea and Iran are building nuclear (yes I can say and spell nuclear) weapons facilities, I can talk about what we are doing here in the US with the same incompetence or ignorance for fact. Iran and North Korea


Permalink
Views: 1675
Latest Blog Post by joe -Women choose Internet over Sex
Somervell County Salon Blog is now an archive site. Commenting not enabled.

Comments!
---
1 - salon 14 Feb 2007 @ 11:15:06 AM
Boy. That struck me EXACTLY the same way. Just finished watching Pinhead-In-Chief on television and heard him repeatedly characterize Iran as going after nuclear weapons, despite their saying that they want, like so many other countries in the world, to have nuclear POWER plants. I may write that up separately, but because we live here where Comanche Peak is, I'm very interested in seeing how the rest of the world sees nuclear power, and in a lot of countries, they are pursuing it. (Whether I think that's a good idea or not isn't germane here). And a correlary question-how are those other countries that want nuclear power being monitored to make sure THEY aren't creating a nuclear weapon? Isn't it the IAEA? But IAEA is monitoring Iran-at least until yesterday, when Iran asked for a replacement monitor.
But you're right. If one is going to use the argument that BECAUSE someone wants to use nuclear technology for power, it follows that those same people want to make nuclear weapons, then the finger also points at the US.
Latest Blog Post by salon -
Video- Somervell County Commissioners Court Special Sessions (2) Dec 23 2019
---
---



Guest


Today Is
Sunday, September 19, 2021

---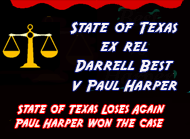 Latest Posts

More Blog Headlines