Salon is now an archive.
New site here
---
14 January 2007 at 9:54:58 AM
salon

Wrote about this yesterday and then saw Panhandle Truth Squad's reference to some queeny gossip regarding Highland Park and Bush.

I read an article about Kenny Goss, a Dallas gallery owner who also happens to be George Michael's partner. The article described the Goss gallery's collection of creepy First Lady1 portraits, but the real meat2 of the article gets saved for the gossipy final two paragraphs, In Which Goss describes the Emperor's post-White House plans:

"The Bushes are moving back to Highland Park," Goss says. They're actually looking to build a house across the street from where George and I had just bought."

I got to wondering just where the Goss couple lives.The Dallas Appraisal District


Permalink
Views: 757
Latest Blog Post by salon -Video- Somervell County Commissioners Court Special Sessions (2) Dec 23 2019
Somervell County Salon Blog is now an archive site. Commenting not enabled.

---
---



Guest


Today Is
Monday, January 25, 2021

---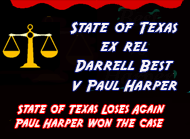 Latest Posts

More Blog Headlines