Salon is now an archive.
New site here
---
7 January 2007 at 2:35:35 PM
salon

Here's the resolutions and bills

1. House ethics rules: Adopted, 430-1, Democratic-sponsored changes in House ethics rules for the 110th Congress (H Res 6). The new rules bar members from accepting rides on corporate jets, prohibit members from seeking to influence the staffing decisions of lobbying organizations and trade associations, and bar members and staff from receiving gifts from lobbyists above $50, with a $100 annual limit from any single source and cash gifts not allowed. The new rules also prohibit members and staff from accepting privately financed travel for other than one-day events or longer events sponsored by colleges and universities; stipulate that privately financed travel must be cleared in advance by the House ethics committee; and require the ethics committee to offer members and staff formal instruction in ethics rules.
These and other rules changes (below) were later added to the body of standing rules that has governed House procedures since the 1st Congress in 1789.

Rep. Dan Burton, R-Ind., cast the single vote against the new rules. He did not speak during debate. A yes vote was to adopt the new ethics rules.


Permalink
Views: 710
Latest Blog Post by salon -Video- Somervell County Commissioners Court Special Sessions (2) Dec 23 2019
Somervell County Salon Blog is now an archive site. Commenting not enabled.

---
---



Guest


Today Is
Sunday, January 24, 2021

---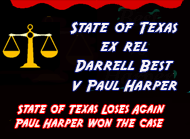 Latest Posts

More Blog Headlines