Salon is now an archive.
New site here
This site's archives
---
26 October 2006 at 4:59:14 PM
salon

I noticed that Paradigm Charter School of Dublin, Texas, wants to not only teach high school kids but elementary and has asked the state to amend their charter. The conversation with DISD revolved around whether it was a good idea for charter schools to teach elementary grades as well, and Neff, superintendent, was against it. (Something I don't understand but maybe one of you teachers who reads can explain this to me; why would the Charter school have to go before DISD in the first place-is it because the Texas State Legislature is funding it through OUR taxes and therefore taking elementary age kids away from public school would impact public schools? Seems so.)

Neff told the board that Dr. Johnson, Paradigm superintendent, had said he was interested in expanding in the Brownwood area and not Dublin.




Permalink
Views: 1657
Latest Blog Post by salon -Video- Somervell County Commissioners Court Special Sessions (2) Dec 23 2019
Somervell County Salon Blog is now an archive site. Commenting not enabled.

---
---



Guest


Today Is
Wednesday, August 4, 2021

---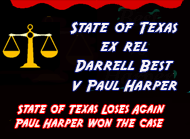 Latest Posts

More Blog Headlines