Salon is now an archive.
New site here
This site's archives
---
6 October 2006 at 11:09:09 PM
salon

First off, I didn't necessarily have a bad impression of Kinky Friedman.... before tonight. Sheesh. He might be a good comic, but he is not governor material. C'mon- WHO in their right mind would tell people, in response to a question about his cigar smoking, that Sam Houston was a drug addict and alcoholic? Was he trying to say he was in the same league? Or "I'm better than Sam Houston, who was an opium addict?". Please. VIDEO- on Offensive Questions.


Permalink
Views: 2021
Latest Blog Post by salon -Video- Somervell County Commissioners Court Special Sessions (2) Dec 23 2019
Somervell County Salon Blog is now an archive site. Commenting not enabled.

---
---



Guest


Today Is
Tuesday, March 28, 2023

---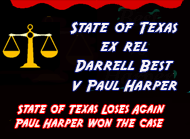 Latest Posts

More Blog Headlines