Salon is now an archive.
New site here
This site's archives
---
19 December 2019 at 9:23:02 AM
salon

Over the course of his adult life, Trump has always been deeply afraid of two things: being humiliated and being laughed at. In this respect, impeachment is a nightmare, because it has brought both upon him in buckets. His dishonesty, selfishness, sleazy personal life and all the rest has always fueled contempt by anyone with a conscience and ability to think objectively. But this, this is different. This is contempt for the history books.

Besides doing something deeply corrupt with trying to get favors from a foreign government against a political opponent.


Permalink
Views: 1934
Latest Blog Post by salon -Video- Somervell County Commissioners Court Special Sessions (2) Dec 23 2019
Somervell County Salon Blog is now an archive site. Commenting not enabled.

---
---



Guest


Today Is
Saturday, August 13, 2022

---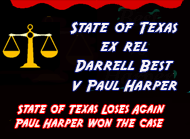 Latest Posts

More Blog Headlines