On November 18, 2019, the Somervell County Commissioners Court met for a special session.
Their web site link: http://somervellcountytx.iqm2.com/Citizens/Detail_Meeting.aspx?ID=1468
A screen shot of the top of the notice, the part we are discussing here: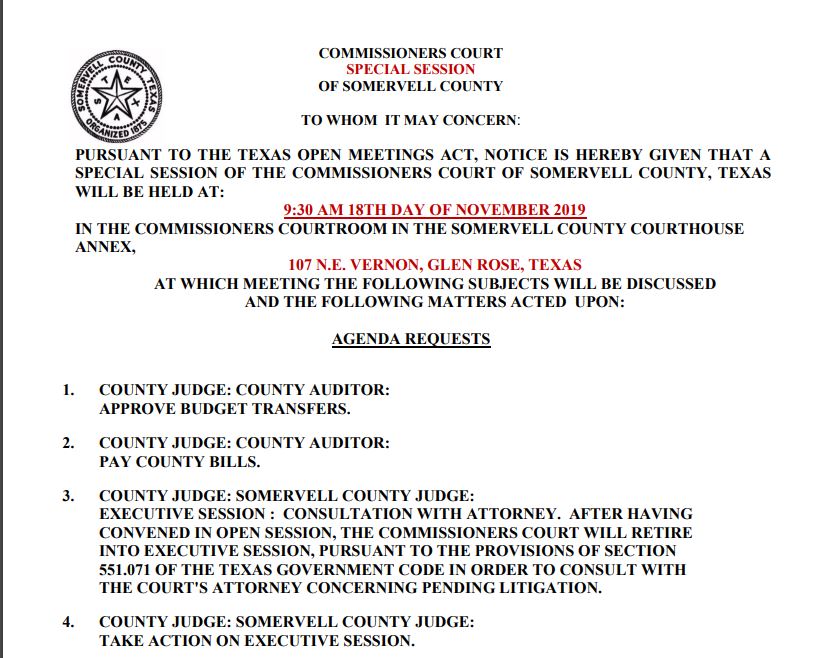 Agenda item #3 is where they go into closed session per 551.071 of the Texas Government Code. Then when they came out of closed session and went to agenda item #4, they took no action according to the official minutes here.
How did item #3 and #4 appear on the agenda? My attorneys had approached County Attorney Andrew Lucas to collect on the Final Judgment per the letter from the Texas Office of Attorney General.
Here's an email from County Attorney Andrew Lucas confirming they will be discussing on Monday the 18th, which matches the agenda item #3.
From: Andrew Lucas
Date: November 14, 2019 at 9:25:28 AM CST
To: Mary Barkley


Mary – I will try to meet with the commissioners on Monday. It is government and we have notice requirements so I'm not blowing you off.
The next day after the meeting on the 18th my attorney follows up via email with the County Attorney Andrew Lucas asking about the meeting, here's what County Attorney Andrew Lucas sent in reply:
From: Andrew Lucas [mailto:andrew.lucas@co.somervell.tx.us]
Sent: Tuesday, November 19, 2019 9:50 AM
To: Mary Barkley
Subject: RE: RE:

The commissioners declined your demand.

---

From: Mary Barkley
Sent: Tuesday, November 19, 2019 9:44 AM
To: Andrew Lucas [mailto:andrew.lucas@co.somervell.tx.us]
Subject: RE:

Andy – I am following up with you on the commissioners' meeting. Please advise.
Any governmental body can meet in closed session to discuss the legally allowed items to be discussed. What they are not allowed to do is take action behind closed doors as all action MUST be done in public. Per the same Texas Government Code that allows the closed meeting, it also dictates the public must see any action (https://statutes.capitol.texas.gov/Docs/GV/htm/GV.551.htm):
Sec. 551.102. REQUIREMENT TO VOTE OR TAKE FINAL ACTION IN OPEN MEETING. A final action, decision, or vote on a matter deliberated in a closed meeting under this chapter may only be made in an open meeting that is held in compliance with the notice provisions of this chapter.


Added by Acts 1993, 73rd Leg., ch. 268, Sec. 1, eff. Sept. 1, 1993.
In this case no action was taken after the closed session so how is it that County Attorney Andrew Lucas can say that the commissioners 'declined' anything since they didn't take a public vote to decline or approve it? Declining is an action so his email says they agreed and decided in a closed session to decline because no single commissioner can advise lucas to decline without a vote and no action would not be a decline.
So according to Somervell County Attorney Andrew Lucas own' email, the County Commissioners that attended that meeting violated section 551.102 of the Government Code (aka the Open Meetings Act) by taking action in the closed meeting to decline. Those County Commissioners that are implicated by Lucas email are Larry Hulsey, Dwayne Johnson, and Wade Busch.
Now did Somervell County Judge Danny Chambers vote on this in closed session? He was at the meeting and always votes with the court, County Attorney Andrew Lucas was at that meeting too. Why didn't EITHER of them, the County Judge or County Attorney, stop the violation of the Open Meetings Act or report it after the fact? County Attorney Andrew Lucas is supposed to enforce the Open Meetings Act, not be an accessory to violating it.