Salon is now an archive.
New site here
This site's archives
---
30 January 2019 at 10:21:00 AM
salon

Thought this was interesting. I was looking at something unrelated in the Texas Open Meetings Handbook put out by the Texas Attorney General and came across this.

In text

In Harper v Best 493 S W 3d 105 (Tex App- Waco 2016, pet granted), the Waco Court of Appeals considered an Open Meetings Act claim based on a series of text messages between Harper and a second county hospital board member, Parker, as well as a series of text messages between Harper and a third board member, Harrison. Both sets of text messages concerned public business of the county hospital district. The text messages between Harper and Parker referenced communications with a fourth board member, Eugene. The state argued, that because the quorum of the county hospital board was four, Harper's reference to Eugene in communications with Parker established a walking quorum in violation of the Open Meetings Act. The court of appeals determined that even assuming the ference to the fourth board member established a walking quorum, the ference did not indicate that deliberations subject to the Open Meetings Act had occurred. The court said "Harper mentioned in his text that he had told Eugene that he had several motions but that he did not 'get into' the subject of those motions. Because nothing was presented to show that an exchange occurred between Harper and Eugene about an issue within the jurisdiction of the board or any public business, particularly the issues discussed with Parker and Harrison," the court determined that there was no violation of the Act.


Permalink Tags: glen rose somervell darrell best TOMA Andy Lucas Best v Harper
Views: 1957
Latest Blog Post by salon -Video- Somervell County Commissioners Court Special Sessions (2) Dec 23 2019
More Posts You Might Enjoy
Sheriff Logs, Jail Logs, Fire Logs from Nov 15, 2019 through Dec 18, 2019
Somervell County Hospital District CFO Report from Dec 5 2019 and I-35 Clinic Info
8/23/2019- Judgement Against The State of Texas and George Darrell Best
Audio-City of Glen Rose Town Council Meeting April 8 2019
Somervell County Salon Blog is now an archive site. Commenting not enabled.

---
---



Guest


Today Is
Saturday, October 1, 2022

---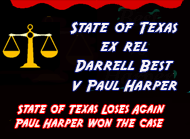 Latest Posts

More Blog Headlines