Salon is now an archive.
New site here
This site's archives
---
10 September 2016 at 12:57:39 PM
salon

Hillary Clinton, therefore, wants to minimize and discriminate against those who are not religious. There is NO requirement that a president must be religious, if someone wants, as an individual to be religious, that is fine, but this is anot a christian country. Especially egregious when you consider that she made this comment at a Baptist convention, which supposedly believes in separation of church and state. Will NOT vote for her. Ironic that right after she says "who will defend the dignity of every individual" ... unless you are atheist.

A President who will pray with you, and for you, who will defend the dignity of every individual, and the principle of religious freedom that was woven into the moral fabric of our nation from the very beginning. Yes, we need a President who will do justice, love kindness, and walk humbly with our God.

Which god? Baptist god?

I see in the comments for that blog that people want to excuse Clinton, most of the arguments are in the vein of "Lesser of two evils". I won't make excuses for people who don't do the right thing. And she is not.

"Secretary Clinton's recent comments reinforce the de facto religious test imposed on nonreligious Americans seeking elected office. Americans do not 'need' a candidate to pray for or with them. They need a candidate who will lead effectively and represent the values shared by Americans of all faiths and of no faith," responded Sarah Levin, Senior Legislative Representative at the Secular Coalition. "At the Democratic National Convention, Secretary Clinton emphasized the importance of being inclusive and we were thrilled to see the esteemed Reverend Barber lead by example when he included 'those who have no faith' in his speech. If Secretary Clinton claims to stand for inclusion, we urge her to follow the Reverend's example and start walking the walk."

"Our mission is to hold lawmakers accountable to their nonreligious constituents, both when they are right and when they are wrong," said Larry Decker, Executive Director of the Secular Coalition for America. "Secretary Clinton received an 'A' on our presidential Voter Guides because she has consistently supported science-based public policy and defended the separation of church and state. However, this track record does not excuse her statement suggesting that prayer is a prerequisite for the presidency. There is a very real prejudice against nontheists holding public office in the United States and Clinton's remarks serve to reinforce this harmful stigma."

One way to hold *potential* lawmakers accountable is not to vote for those who pretend not to be bigots, while being bigots.

Great. This would seem to disqualify most atheists from the office. Isn't this precisely the sort of religious bigotry of which Clinton has accused her opponent? Or is it just that atheists are fair gamewhile Muslims must be shielded for some reason?

Mrs. Clinton told an audience that was almost entirely black. The nation, she added, needed "a president who will pray with you and for you."

Is there any evidence that this has helped the plight of Blacks in the U.S.? I didn't think so.

Perhaps this is just another example of Clinton's willingness to say whatever her particular audience wants to hear in whatever accent she thinks they'd prefer to hear it in. Then again, given other recent comments from her campaign and her reported history of involvement with a powerful and secretive anti-democratic Christian extremist group, I'm not so sure.


Permalink Tags: hillary clinton prayer atheist
Views: 1931
Latest Blog Post by salon -Video- Somervell County Commissioners Court Special Sessions (2) Dec 23 2019
More Posts You Might Enjoy
Religious News and Notes from the Distaff Side - 11/4/2017
2017/2018- Invocations at Glen Rose ISD (GRISD) School Board Meetings (Somervell/Glen Rose)
Hug An Atheist Today-It's *Openly Secular Day* (11/15/2016)
FBI has REOPENED its investigation into Hillary Clinton's emails (10/28/2016)
Somervell County Salon Blog is now an archive site. Commenting not enabled.

---
---



Guest


Today Is
Saturday, August 13, 2022

---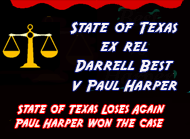 Latest Posts

More Blog Headlines