Salon is now an archive.
New site here
This site's archives
---
12 July 2016 at 11:42:41 AM
Somervell County Salon Blog is now an archive site. Commenting not enabled.

Comments!
---

1 - Fb2 12 Jul 2016 @ 6:16:17 PM
That's part of the problem there overpayed and only doing it for the money for the last couple years they have been cutting jobs, saleries,positions etc, but keep voting themself raises. How dare mr. Watts even think of touching the elite !
---

2 - Homegrown Matters 13 Jul 2016 @ 12:51:38 AM
The real problem has been over $$$$ spending $$$$ for YEAR'S. Some ( like Mr Hulsey that I believe has served his County well, and it has supplemented his income substantially!) Commissioners remember way back before Comanche Peak's tax revenue was ever even thought of, or could ever possibly be dreamed of, just how deplorable the county roads were. At times they were a real safety issue. But if the money's not there, then neither are the roads or the finer thing's in life! I understand that none of the Commissioners want a wage decrease, but you have to come to the REALITY that's going to happen, sooner than any of you were obviously aware of! Cutting from the top has to begin, you as Commissioners are elected officials, being a Commissioner was never intended to be a full-time job. You are an" Officially Elected Employee," of each precinct. Your Duty and Obligation is to the precinct that you represent, so therefore you have to set the example or many of the employees of your precinct will be receiving Pink Slips! The salaries of a Commissioner in this County are staggering! By no means do I think your jobs are easy but the reality of end is knocking at the door! Your families, neighbors, and friend's are going to be in the unemployment or welfare line if you aren't willing to step up to the plate and make some sacrifices by starting at the top. It will inevitably be a trickle down effect, but help save as many hard working employees as possible, I believe that is a requirement of any and all elected officials. Sacrifice is what it took to make this "Country Great." Greed will be it's downfall. I appeal to all elected officials to access where you can cut expenses before cutting employees. We are all going to be affected by this, The Lottery Money is Gone! The only thing that's glowing green is the Nuclear Waste in our backyard!
---
---



Guest


Today Is
Monday, October 2, 2023

---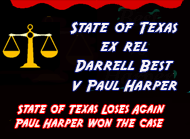 Latest Posts

More Blog Headlines