Salon is now an archive.
New site here
This site's archives
---
29 April 2016 at 11:03:26 AM
salon

from Waco Trib

The diligent Houston Chronicle furnished evidence indicating Miller, arguably the most colorful of our elected state officials, purchased flights to and from Mississippi with an agriculture department credit card so that he could compete in a rodeo. He explained that while he intended to vie in rodeo competition, he also sought to set up meetings with agricultural officials while there. The meetings never happened, but he reportedly won $880 roping calves.

Another Chronicle investigation indicates Miller charged taxpayers more than $1,120 so he could fly to Oklahoma and meet with agricultural officials — except again no meeting occurred. The evidence suggests Miller was there to receive a "Jesus shot" from a convicted felon for pain relief incurred by rodeo injuries.

In case it's not apparent, the Miller MO seems to involve traveling to events for personal gain and setting up "official" meetings so he can claim he was on business and soak state taxpayers. This is the same guy who after campaigning as a "fiscal hawk" in 2014 gave out $413,700 in bonuses to his staff in 2015. Ironically, he was handing out bonuses while trying to increase state fees for farmers. Nice guy.

Miller is being investigated by the Texas Rangers.

Update: Mandy Jenkins pointed to this hilarious Texas Observer article

But if these episodes have been undergraduate courses in buffoonery, here is Miller's master's thesis, as related by the Houston Chronicle. Miller, a rodeo cowboy, has pain problems. Word reached Miller of a "doctor" up in Oklahoma, a man found guilty of eight felony charges by an Ohio court, including health care fraud. Known as Dr. Mike, the felon offered something he called a "Jesus shot," which would take away all pain for life. He offered this considerable advancement in medical technology for $300.

Just after he took office in 2015, Miller booked a flight to Oklahoma and a rental car, for the purposes of traveling to the Priceless Beauty Spa in Kingfisher, Oklahoma, where Dr. Mike plies his trade. Miller charged Texas taxpayers $1,100. On the way up, he hastily scheduled a meeting with some Oklahoma lawmakers so he could claim the trip was for state business. "It was a pretty lengthy meeting," Miller told the Chronicle, at which many important agricultural-type issues were discussed.

"It was 15 minutes, at most," said one of the Oklahomans.


Permalink Tags: glen rose sid miller agriculture jesus shot
Views: 1717
Latest Blog Post by salon -Video- Somervell County Commissioners Court Special Sessions (2) Dec 23 2019
More Posts You Might Enjoy
Sheriff Logs, Jail Logs, Fire Logs from Nov 15, 2019 through Dec 18, 2019
Somervell County Hospital District CFO Report from Dec 5 2019 and I-35 Clinic Info
8/23/2019- Judgement Against The State of Texas and George Darrell Best
Audio-City of Glen Rose Town Council Meeting April 8 2019
Somervell County Salon Blog is now an archive site. Commenting not enabled.

---
---



Guest


Today Is
Friday, September 24, 2021

---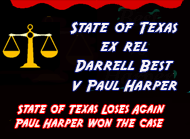 Latest Posts

More Blog Headlines