Salon is now an archive.
New site here
This site's archives
---
24 October 2015 at 10:52:46 AM
salon

Sheesh. I see that somebody wants to be able to live someplace else instead of living in the place where they DO THEIR JOB. SUCK IT UP, WHINERS. Anybody else in this country that has a job has to GO TO WHERE THE JOB IS or they get a different job. They move, they travel, they do whatever. YOU ARE ON MY DIME, YOU CAN TOO.

Amendment No. 3 (S.J.R. 52) Wording of Ballot Proposition The constitutional amendment repealing the requirement that state officers elected by voters statewide reside in the state capital. Analysis of Proposed Amendment Summary Analysis Section 23, Article IV, Texas Constitution, requires certain state officers elected by the voters statewide, including the comptroller of public accounts, commissioner of the General Land Office, attorney general, commissioner of agriculture, and railroad commissioners, to reside at the state capital while in office. The constitutional amendment proposed by S.J.R. 52 removes that residency requirement. The residence of the governor is addressed by Section 13, Article IV, Texas Constitution, and is not affected by this proposed amendment.

Comments by opponents

Comments by Opponents. The proposed amendment allowing certain state officers elected by the voters statewide to live anywhere in this state would repeal a residency requirement that has remained unchanged in the Texas Constitution since its adoption in 1876. The amendment would allow state officers, who are serving in full-time paid positions, to be physically present at the state capital infrequently and to possibly neglect their duties of office. Essentially, state officers serve as the chief operating officers for their respective state agencies, which have central offices in Austin, and the officers' duties require the officers to be available to the agency employees serving in Austin. State officers are often required to conduct statewide business at the seat of government, and residency in a location other than Austin would likely increase the state-reimbursed travel expenses of the officers. Finally, a state officer, by maintaining a residence away from the state capital, may be able to select a residence based on the officer's perception that the location would provide a more favorable venue than Travis County for any legal action brought against the officer.

I'm voting NO.


Permalink Tags: SJR 52 Texas constitutional amendment sid miller
Views: 1936
Latest Blog Post by salon -Video- Somervell County Commissioners Court Special Sessions (2) Dec 23 2019
More Posts You Might Enjoy
Did you Vote Against Texas Toll Lanes? TXDOT Trying a Bait and Switch
I'm Voting NO on ALL the Constitutional Amendments (Texas) November 2015
Favorite Quote O Day about Second Amendment
Saw this request from Tom Green Co (TX) about Open Carry at Govt meetings
Somervell County Salon Blog is now an archive site. Commenting not enabled.

---
---



Guest


Today Is
Saturday, August 13, 2022

---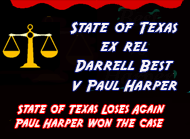 Latest Posts

More Blog Headlines