Salon is now an archive.
New site here
This site's archives
---
23 September 2015 at 10:21:15 AM
salon

Referencing bigoted statements by Donald Trump and Ben Carson

Imagine for a second that this was happening to us. What would American Jews be saying to each other if the man running second for a major party's presidential nomination had just said that Jews were unfit for the presidency and Judaism was incompatible with the Constitution? What would we be saying if three prominent presidential candidates refused to condemn the idea that American Jews constituted a "problem" that needed to be gotten "rid of?" Imagine the mood in synagogue on Yom Kippur on the week these hateful, near-genocidal, anti-Semitic slurs were being broadcast across cable TV.



Permalink
Views: 1673
Latest Blog Post by salon -Video- Somervell County Commissioners Court Special Sessions (2) Dec 23 2019
Somervell County Salon Blog is now an archive site. Commenting not enabled.

---
---



Guest


Today Is
Sunday, September 19, 2021

---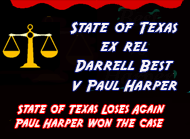 Latest Posts

More Blog Headlines