Salon is now an archive.
New site here
This site's archives
---
15 September 2015 at 10:01:44 PM
salon

Sheesh. This is absolutely absurd.

IRVING — Ahmed Mohamed — who makes his own radios and repairs his own go-kart — hoped to impress his teachers when he brought a homemade clock to MacArthur High on Monday.

Instead, the school phoned police about Ahmed's circuit-stuffed pencil case.

So the 14-year-old missed the student council meeting and took a trip in handcuffs to juvenile detention. His clock now sits in an evidence room. Police say they may yet charge him with making a hoax bomb — though they acknowledge he told everyone who would listen that it's a clock.

In the meantime, Ahmed's been suspended, his father is upset and the Council on American-Islamic Relations is once again eyeing claims of Islamophobia in Irving.

Our bigger concern is the message this sends to inquisitive students considering the very STEM fields — science, technology, engineering and mathematics — that employers are begging them to pursue.

Computer engineering and robotics are now the rage in high schools across America. Students proudly display their inventions at school fairs and competitions the way previous generations showed off spewing volcano models.

What a sad statement if, for Muslim kids, a shadow of suspicion signals that, for them, such options are out of bounds.

Incidentally, he is STILL owed an apology which he has not received.


Permalink Tags: Ahmed Mohamed clock irving
Views: 1676
Latest Blog Post by salon -Video- Somervell County Commissioners Court Special Sessions (2) Dec 23 2019
Somervell County Salon Blog is now an archive site. Commenting not enabled.

Comments!
---
1 - pharper 16 Sep 2015 @ 8:42:57 AM
Science and Math should be encouraged like those Navy commercials say. It's obvious no one at this school believes in invention or creation of any kind. Get in line and take your pill and tests....geez what is this state coming to?
Latest Blog Post by pharper -
Paul Harper offered to settle State of Texas ex rel. Best v Harper lawsuit for $68k back in 2016
---
2 - salon 16 Sep 2015 @ 9:25:31 AM
Contact info for the Irving superintendent
In case you folks feel like giving someone a piece of your mind: Jose Parra Superintendent of Schools 972-600-5001 jparra@irvingisd.net
Latest Blog Post by salon -
Video- Somervell County Commissioners Court Special Sessions (2) Dec 23 2019
---

3 - Anonymous 4 Oct 2015 @ 3:50:55 AM
He sorry His Father, an Islamic activist, who want Shari'et law in USA, has succeeded in bringing attention of all these stupid people call themselves the News Reporters, and they are trying to set a new standard for USA, that not to bother if some one bring a Bomb to Class Rooms.
---

4 - Anonymous 4 Oct 2015 @ 3:52:59 AM
cience and Math or any invention has nothing to do with this son of a Muslim
---
5 - salon 4 Oct 2015 @ 10:44:50 AM
@Anonymous-Nonsense. Science and math has everything to do with this kid. Shame on you for not extending the same beliefs you would for any other science and math nerd. I don't know if he's a kid genius, but I myself have done a lot of soldering of computer parts, and most recently repaired my computer monitor by changing out some capacitors. I definitely don't blame the school teacher for being cautious, but the school personnel over-reacted.
Second, on Sharia Law. Surely you are aware that a whole lot of different religions in this country have their own religious systems, laws, and even sometimes their own courts. That includes, for example, Jews, Mormons, Catholics, Jehovah's Witnesses, etc. Those religous laws DO NOT TRUMP the US Constitution. Because this country is founded on freedom of religion, no religion is the law the land, ie, we are not a christian nation ruled by the ten commandments. And, anything a religion decides to do as a tenet must also fall, in this country, within US law. So we don't allow religious groups to, say, behead people or chop off people's hands, etc. I hope you are equally as disturbed at the idea of a christian instituting the bible as law over the constitution.
Latest Blog Post by salon -
Video- Somervell County Commissioners Court Special Sessions (2) Dec 23 2019
---
---



Guest


Today Is
Sunday, September 19, 2021

---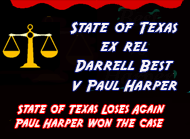 Latest Posts

More Blog Headlines