Salon is now an archive.
New site here
This site's archives
---
7 July 2015 at 10:56:04 PM
salon

Saw this evening that Senator Brownback has issued some sort of *religious freedom* order that actually legalizes bigotry. I definitely will be staying out of Kansas on vacation, even if we have to drive through a different state (Missouri sounds good!) and am going to check when I buy products that I don't buy any from Kansas. People VOTED for that guy and put him in office, so I have to assume that they are, for the most part, bigots too. Not anyone I want to associate with or buy merchandise form. It isn't that I don't think Kansas will be embroiled in lawsuits over this, but that could take some time to wind through courts.

The order means "a homeless shelter that received a state contract or grant could refuse family housing to a gay couple with a child, or a foster care agency could refuse to place a child in their custody with the child's family member just because the family member was in a same-sex relationship – and the state could not require them to treat all families equally," said Micah Kubic, executive director of the Kansas chapter of the ACLU.

Executive orders carry the weight of law. Unlike pieces of signed legislation, they can be rescinded by subsequent administrations. The governor issued an executive order earlier this year that eliminated a protection against discrimination for gay state workers that had been established by Democratic Gov. Kathleen Sebelius.

Tom Witt, executive director of Equality Kansas, a gay rights organization, said it was no coincidence that the order came the same day that same-sex spouses of state workers gained access to their spouses' health plans.

"The governor clearly has no respect for gay and lesbian Kansans and this is his way of saying that," Witt said. "Instead of welcoming us to first-class citizenship along with everyone else in this state he sends out this executive order that basically says, too bad."


Permalink Tags: bigotry religous freedom brownback kansas
Views: 1634
Latest Blog Post by salon -Video- Somervell County Commissioners Court Special Sessions (2) Dec 23 2019
Somervell County Salon Blog is now an archive site. Commenting not enabled.

---
---



Guest


Today Is
Wednesday, June 23, 2021

---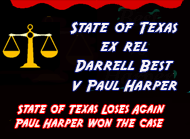 Latest Posts

More Blog Headlines