Salon is now an archive.
New site here
---
23 July 2006 at 8:38:55 AM
salon

I was reading some articles on Pearson Educational and ran across this which sparked my interest due to wondering just how the mechanical process works. In other words, either this is BS or it's not. If it's 1 that SAT scores could be off by 100 points simply because it's a rainy day, could that also apply to voting processes?

Damp Test Scores: The recent discovery that the SAT test scores of several students (mostly from the northeast USA) may have been off by as much as 100 points due to a marking error, has made many high schoolers anxious and thrown college admission committes into a state of confusion.


Permalink
Views: 587
Latest Blog Post by salon -Video- Somervell County Commissioners Court Special Sessions (2) Dec 23 2019
Somervell County Salon Blog is now an archive site. Commenting not enabled.

---
---



Guest


Today Is
Sunday, January 17, 2021

---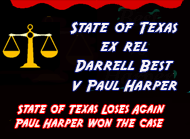 Latest Posts

More Blog Headlines