Salon is now an archive.
New site here
This site's archives
---
19 December 2014 at 2:29:51 PM
salon

Money continues to be spent from OUR Somervell County Hospital District into ANOTHER hospital district, Hood County Hospital District. Why are we taxpayers paying even ONE CENT for services in a clinic within a rich, gated community, in a hospital district that pays NO TAXES while we pay to put services there, including hospital equipment. Were Pecan Family Medical Center a privately run clinic that used no tax money whatsover, with Glen Rose Medical Center beng a private hospital, I would have no beef with them being wherever they want, as any private entity can be. Heck, Glen Rose Medical Center used to be a private hospital, and Lake Granbury is now. I have written repeatedly, done plenty of open records request, issued a complaint to the sheriff's department and even went over to test for myself whether someone could just walk into gated community Pecan Plantation without getting permission. Here's a basic timeline with all articles I have personallly written myself ((with one exception where blog poster pharper wrote his opinion). LIST


Permalink Tags: glen rose somervell county pecan plantation hood county glen rose medical center
Views: 1627
Latest Blog Post by salon -Video- Somervell County Commissioners Court Special Sessions (2) Dec 23 2019
More Posts You Might Enjoy
Been Wondering- WHY didn't Somervell County Attorney Andrew Lucas have a contract with outside attorney Mackenzie
Sheriff Logs, Jail Logs, Fire Logs from Nov 15, 2019 through Dec 18, 2019
Somervell County Hospital District CFO Report from Dec 5 2019 and I-35 Clinic Info
Why Didn't County Attorney Andy Lucas Keep Extensive Lawsuit Materials in his file?? re: State of Texas ex rel Best v Harper
Somervell County Salon Blog is now an archive site. Commenting not enabled.

---
---



Guest


Today Is
Thursday, May 6, 2021

---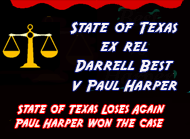 Latest Posts

More Blog Headlines