Salon is now an archive.
New site here
This site's archives
---
6 December 2013 at 11:26:46 PM
salon

Republican Sid Miller, a former representative from Stephenville now running for the statewide office, acknowledged that he received the warning but said he's done nothing wrong. Witnesses complained after Miller tethered three of his prize-winning quarter horses to the back of a trailer and exercised them by driving them around slowly in circles at a show in May in San Antonio.

Experts said if a horse rears back or falls during such an exercise, it can break its neck or leg. Miller said the concern is unjustified because his horses are trained for the activity.

Yeah, but the American Quarter Horse Association is.

Tommy Merritt, a former Republican House member from Longview, said Miller "brings a great disgrace to the profession for treating his animals that way." Miller, a former representative from Stephenville, said Merritt knew so little about horses that Miller once had to help him saddle one. "Tommy doesn't know squat about horses," Miller said. "He's not qualified to make that statement."


Permalink Tags: glen rose somervell sid miller agriculture commissioner
Views: 1678
Latest Blog Post by salon -Video- Somervell County Commissioners Court Special Sessions (2) Dec 23 2019
More Posts You Might Enjoy
Sheriff Logs, Jail Logs, Fire Logs from Nov 15, 2019 through Dec 18, 2019
Somervell County Hospital District CFO Report from Dec 5 2019 and I-35 Clinic Info
8/23/2019- Judgement Against The State of Texas and George Darrell Best
Audio-City of Glen Rose Town Council Meeting April 8 2019
Somervell County Salon Blog is now an archive site. Commenting not enabled.

---
---



Guest


Today Is
Sunday, September 19, 2021

---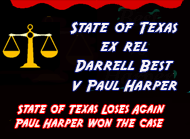 Latest Posts

More Blog Headlines