Salon is now an archive.
New site here
This site's archives
---
7 November 2013 at 9:40:27 AM
Somervell County Salon Blog is now an archive site. Commenting not enabled.

Comments!
---

1 - antitaxbrigade 7 Nov 2013 @ 8:45:23 PM
So we have local GOVERMENT types always not following open meetings rules here , so is there any recourse for them not following the rules ? Is there someone in chrage or do we just keep pointing out and wait for the our D.A. to finally do his job or our county attonry to wake up and do his .Hey maybe we can all ignore all the rules and have a free for all .
---
2 - salon 8 Nov 2013 @ 8:56:51 AM
The Open Meetings act has a section on what to do with violations. Says to go to the county attorney or the district attorney. When that has been done, the county attorney has said to go to the sheriff. One of the deputies told me what has to be done is to file a writ of mandamus. That, of course, costs to file, in district court, but gets before the district judge. At that point, the judge would rule on whether it's okay for there to be open meetings with public comments sections where the judge says he won't allow people to speak, to see whether people can make any comment they want (free speech) or it has to be okayed by government first, whether it's okay for a judge to use the meetings as bully pulpits without allowing others to speak and telling them what they can talk about, and whether the judge can arbitraily decide, without such item being on the agenda, to allow people to speak or not where there is no public comment section and it's not a public hearing.
Latest Blog Post by salon -
Video- Somervell County Commissioners Court Special Sessions (2) Dec 23 2019
---
---



Guest


Today Is
Sunday, January 23, 2022

---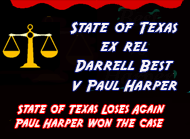 Latest Posts

More Blog Headlines