Salon is now an archive.
New site here
This site's archives
---
12 September 2013 at 9:59:15 AM
salon

Regular readers know that this site believes the the Somervell County Hospital District is breaking the law by spending Somervell County taxpayer money in gated community Pecan Plantation. Pecan Plantation is not in Somervell County, is not part of the Somervell County hospital district, is in Hood County's hospital district , and Hood County residents pay ZERO taxes to the hospital district because Hood County has an agreement with private hospital corporation CHS. It is not only that we believe it is illegal to spend our money there, but also that the way the accounts are set up, there is little accountability on HOW money is being spent. Certainly it is not a transparent process. Because we believe this is a criminal matter of breaking the law, we about 2 weeks ago sent a complaint to the Somervell County Sheriff's Department. We have been told that one of the departments members will be looking at this, and we await that discussion.


Permalink Tags: glen rose somervell county glen rose medical center pecan plantation 501a pecan family medical center
Views: 2039
Latest Blog Post by salon -Video- Somervell County Commissioners Court Special Sessions (2) Dec 23 2019
More Posts You Might Enjoy
Sheriff Logs, Jail Logs, Fire Logs from Nov 15, 2019 through Dec 18, 2019
*The Other* -Why Does Somervell County Hospital District Categorize Property Taxes as Other under Revenue
Somervell County Hospital District CFO Report from Dec 5 2019 and I-35 Clinic Info
8/23/2019- Judgement Against The State of Texas and George Darrell Best
Somervell County Salon Blog is now an archive site. Commenting not enabled.

Comments!
---
1 - concernedcitizen 12 Sep 2013 @ 12:49:30 PM
Latest Blog Post by concernedcitizen -
Williams convicted of Capitol murder--now awaiting sentencing
---

2 - concernedcitizen 26 Sep 2013 @ 12:36:12 PM
Have you received a response on this from Sheriff's Office or are they sitting on this like the hospital embezzlement case? After Texas Rangers completed their investigation on hospital embezzlement and turned it over to D.A. , I believe the law states 30 days to take action. The D.A.'s office took over a year to bring it before/and get a no bill from grand jury just like Judge Ford said would happen when he called one of our citizens a liar regarding this case Judge Ford guaranteed nothing would come of embezzlement over a year before it went to grand jury. Amazing what fore-sight (connection) he possesses! Actually cover up was worse than the crime! More cover ups will be revealed in near future!
In Waco this last week, a Justice of the Peace was arrested, booked, bonded out, and is awaiting trial because of reimbursements of bogus personal vehicle use made to her of $360/month for over a year. At least in Waco they DO prosecute! Wish we DID here!
Another question---Will County sell golf course for pennies on the dollar (to judge's friends and associates)? We don't need to give anything away! Just apply good management of what we have!
Latest Blog Post by concernedcitizen -
Williams convicted of Capitol murder--now awaiting sentencing
---
3 - salon 26 Sep 2013 @ 7:36:01 PM
Not yet but Derrell said he would look at it and I have no reason to believe he won't. My dealings with him have always been good and I think he is very professional.

Latest Blog Post by salon -
Video- Somervell County Commissioners Court Special Sessions (2) Dec 23 2019
---
---



Guest


Today Is
Tuesday, June 6, 2023

---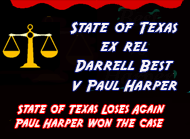 Latest Posts

More Blog Headlines