Salon is now an archive.
New site here
This site's archives
---
5 February 2010 at 10:31:09 AM
salon

I went to the 4B /GRDEC meeting last night to hear about these agenda items. The 4b board was going to talk about possibly purchasing the Palace Theater, funding the Land of the Dinosaurs Dooley venture, Barnard's Mill and building more RV spaces near the Expo. I'm going to post the entire audio and a few other selected video clips in the next few days, but calling this out because it was a bit of a heated exchange. Huckaby was expressing that he thought the money that would be used to buy the Palace Theatre building would be better spent in the Main Street program, said that he believed it was the Chamber that wanted to run it, and asked whether a vote by the Chamber had been taken. Best said yes, but then Huckaby turned to the audience and asked if any other chamber members were there to verify that a vote had been taken. Best took umbrage at this, said he would know because he's the president of the chamber and was Huckaby calling him a liar?

Video Clip


Permalink Tags: glen rose gredc 4b palace theater george darrell best
Views: 2148
Latest Blog Post by salon -Video- Somervell County Commissioners Court Special Sessions (2) Dec 23 2019
More Posts You Might Enjoy
Sheriff Logs, Jail Logs, Fire Logs from Nov 15, 2019 through Dec 18, 2019
Somervell County Hospital District CFO Report from Dec 5 2019 and I-35 Clinic Info
8/23/2019- Judgement Against The State of Texas and George Darrell Best
Audio-City of Glen Rose Town Council Meeting April 8 2019
Somervell County Salon Blog is now an archive site. Commenting not enabled.

Comments!
---
---



Guest


Today Is
Tuesday, December 5, 2023

---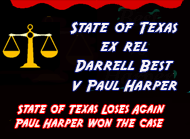 Latest Posts

More Blog Headlines