Salon is now an archive.
New site here
This site's archives
---
30 December 2009 at 11:58:04 AM
Somervell County Salon Blog is now an archive site. Commenting not enabled.

Comments!
---

1 - Scholar of the World 30 Dec 2009 @ 4:32:13 PM
Kay Bailey bases her entire campaign on ripping on Rick Perry's transportation plan, but then her plan is WORSE. She is such a hypocrite.
---
---



Guest


Today Is
Monday, October 2, 2023

---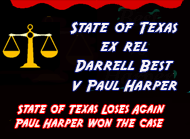 Latest Posts

More Blog Headlines