Salon is now an archive.
New site here
This site's archives
---
18 November 2009 at 11:55:57 AM
Somervell County Salon Blog is now an archive site. Commenting not enabled.

Comments!
---
1 - pstern 18 Nov 2009 @ 12:39:34 PM
Sarah Palin is traveling around the nation on her book tour. The book is not selling well. She is using this tour as a means to gain public support for a run at the Presidency in 2012.
Just an FYI, currently, according to Las Vegas odds makers, Obama is in the lead by -400 with Mitt Romney at +700 and Sarah Palin 3rd at +1000.
Latest Blog Post by pstern -
Who funds ISIS?
---
2 - salon 18 Nov 2009 @ 2:58:23 PM
Heh. WHEW!!!!
Latest Blog Post by salon -
Video- Somervell County Commissioners Court Special Sessions (2) Dec 23 2019
---
---



Guest


Today Is
Monday, February 6, 2023

---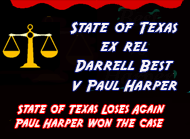 Latest Posts

More Blog Headlines