Salon is now an archive.
New site here
---
21 August 2009 at 8:12:30 AM
Somervell County Salon Blog is now an archive site. Commenting not enabled.

Comments!
---

1 - anonymous former parent 23 Aug 2009 @ 8:49:10 PM
As a parent of a former student, I can tell you that I knew prior to his admittance to the school that the religious perspective was evangelical Baptist and I am an Episcopalian and it was not a concern for me. Perhaps the staff, some of whom are seminary students of a different denomination experience some personal conflict, but it never was a problem for my son as a resident and student.
The school was fantastic - small classes, very demanding, lots of personal attention, excellent teachers and my son loved the academic program best of all. I wish we lived in the area so he could be a day student! You are lucky to have it available to you.
---
2 - salon 26 Aug 2009 @ 9:17:56 AM
@anonymous- I don't quibble with your experience, and you may not have any problem with knowing that the teachers are evangelical Baptist and may even desire it. But I think that should be expressed so that those who may not share your views will be informed.
Latest Blog Post by salon -
Video- Somervell County Commissioners Court Special Sessions (2) Dec 23 2019
---

3 - Ed Shipman 27 Sep 2009 @ 1:23:46 PM
Since you are the "voice" of Somervell County, and since you have chosen to include information about our program here at Happy Hill Farm Academy in your blog, I would like to invite you to our campus for a tour. If you are going to talk about us, you might as well have the information first hand. Since my wife and I founded Happy HIll Farm Academy 35 years ago, we have been right in the middle since that time. I would like to meet you and to show you around personally. Just call Cheryl in our office and make an appointment.
Ed Shipman
Founder
---
4 - salon 27 Sep 2009 @ 2:05:12 PM
@Mr Shipman. Correction-We here are not The Voice but voices that do not claim to represent Somervell County as an entity but rather opinions on some aspects of life here. I appreciate your offer of the tour. While we are considering it, wonder if you would like to comment on the specifics of what we wrote about, that is, that apparently those who apply to work at Happy Hill Farm must sign and agree to specific religious tenets in order to be considered. Is that not the case? If not, then when did that change?
Latest Blog Post by salon -
Video- Somervell County Commissioners Court Special Sessions (2) Dec 23 2019
---

5 - James 28 Sep 2009 @ 8:51:40 AM
Episcopalians do not believe the scriptures are without error, but still as every Christain, they believe in the bible to some degree. To be evangelical simple means to put preaching over ritual. I have never been to Happy Hill, but it seems to me they have helped many people. To expect any church, business or person as far as that goes, to go 35 years without mistakes or problems is unrealistic. The Shipmans have set a standard to which they are entitled, does anyone think they can run Happy Hill better, we all have a "code of conduct" for anyone who comes on our property. I don't "get" this, are people saying that Christainity is wrong, or that the Shipmans are unchristain, if so come right out with it.
---
6 - salon 28 Sep 2009 @ 9:10:42 AM
@James. No, not saying that Christianity is wrong or that the Shipmans are unchristian. The first post has what I was wondering about.
Latest Blog Post by salon -
Video- Somervell County Commissioners Court Special Sessions (2) Dec 23 2019
---

7 - Ed Shipman 6 Oct 2009 @ 6:03:55 PM
As to your original question about our Statement of Faith, while it might be considered a bit more "Baptist" by some than 100% Interdenominational, the intent is still clearly to represent our organization as fundamentally Christian and let those considering applying for employment know where we stand.
---
8 - salon 10 Oct 2009 @ 10:36:09 AM
@Ed Shipman. Thank you again for your offer of a tour. I may take you up on this in the near future.
Your comments about the application don't appear to be correct. The posting I did with the application (see link in the post above) says:
_I agree with the Statement of Faith as it is written (then has a signature and date)

_I do not agree with the Statement of Faith as it is written. (You may write an explanation on the reverse of this paper, if desired) -then has a signature line and date.

All employees are required to check and sign one of the above in order to be considered for employment. Employment decisions will be made on those who disagree with the Statement of Faith after careful consideration.
A small matter, perhaps, but there is not a provision nor instructions to circle parts where one differs.
I am putting the statement of faith here and, as I said before, I don't quibble about the right of a private entity that accepts no public funding to decide who they want to hire. I would want to know, as a parent, however, in case my family didn't agree with these tenets. For example, would a Mormon or a Catholic , or even Christians from more moderate denominations want to send a child to this school?
*******************
Statement of Faith
We believe that each of the sixty-six books in the Bible is the inspired, inerrant (without error) Word of God. God has preserved His Word to this day and will continue to do so. Each book gives internal evidence of inspiration, in that, each has unique authority, insight, and revelation. By inspiration, we mean that each writer was led to write what he wrote by the Holy Spirit, although each was allowed to use his own personality and cultural experiences to compose God's revelation to man. We also believe that some forty different writers wrote the Bible in three different languages - Hebrew, Greek, and Aramaic – over a period of fifteen hundred years, and yet all parts agree in their revelation about God.
The Word of God is absolute and is the supreme standard for mankind by which we are and will be judged. God's Word is profitable for doctrine, reproof, correction, and training in righteousness. Sound interpretation of Scripture involves literal, historical, and grammatical study, resulting in a clear, practical, and life-changing application for daily living.
The Bible and the universe declare that God exists. He is the one 1 God who has revealed Himself. In general terms, God revealed Himself in creation, man's uniqueness, and in history. Specifically, He has revealed Himself in Jesus and through the Bible.
God's fundamental characteristics include: self-existence, omniscience (all-knowing), omnipresence (all-present), and omnipotence (all-powerful). He is a person, and is sovereign, unchangeable, infinite, and eternal. Being spirit, He is free and independent of His creation. Many of His personality attributes are declared in Scripture and experienced by creation: He loves, gives, cares, extends grace and mercy, creates and recreates, restores, and builds. Everything He does is good, due to His moral attributes, which include: righteousness, holiness, justice, goodness, and love.
Although God's Word clearly teaches that there is only one 1 God, it also makes clear that there is a plurality of Persons (trinity) within the Godhead. The baptism of Jesus, the Great Commission of Jesus, the teaching of Christ and the apostles all confirm the reality of the Father,

W

ho is God; the Son, Who is God; and the Holy Spirit, who is God.
1.

THE PERSON AND WORK OF GOD THE FATHER
The Father has all the attributes of God. He is the Father of all in creation. He cares for and planned the government of everything. He is the Father of the nation Israel and is the Father of all who believe in Christ. He is the Father of our Lord Jesus Christ, the Father of mercies, and the God of all comfort.
He sent His Son to this world on a redemptive mission. He lovingly disciplines His children and His creation.
2.

THE PERSON AND WORK OF GOD THE SON – JESUS CHRIST
Jesus Christ is not only pre-existent, but He is self-existent and is the giver of life. Jesus claimed equality and unity with God. This is verified by the Father, the Spirit, the apostles, the holy angels, and all 1 believers. The Bible instructs us to worship Him. He possesses all the fullness of the Godhead. Thus, He has all the divine attributes which never changes.
God became a human being,

through the Person

of

Jesus Christ. He was born of a virgin woman, having been conceived by the Holy Spirit. He had a human body (now a glorified body), a soul, and a spirit. He was tempted in all points as we are, yet He never chose to sin. As Son of Man, Jesus grew mentally, physically, socially and spiritually.
In God's perfect plan, Jesus Christ is the creator of all things, upholding and sustaining all things by the word of His power. Christ gives grace and mercy and saves those who come to Him in 1 faith alone. He raises the dead and is judge of all.
Christ fulfills the perfect will of the Father. Jesus was the Sacrificial Lamb, who died for the sin of all mankind. Thus, He provided a reconciliation of mankind with God. His death on the cross defeated

Satan

and conquered death's power over believers.
Because Christ's body rose from the dead, all His claims and work were validated. The resurrection is the believer's assurance of all aspects of salvation – past, present, and future. It also guarantees the future resurrection of all men: believers to everlasting life (heaven), and non-believers to everlasting condemnation (hell, Dan 12:2).
Our Lord ascended into heaven forty days after His resurrection to His exalted place of authority and power at the right hand of God. He appeared before the Father as the forerunner of those who were, are, and shall be redeemed. He began His present headship ministry over the church, His body, and is our Great High Priest who intercedes on our behalf, enabling us free access into God's very presence.
Presently, Jesus Christ is preparing a place for His people. He is drawing His church together and meeting needs. As individual believers abide in Him, Christ brings forth fruit through them for eternity. In the future, He will come for His church and pour out His wrath on unrighteous mankind. Jesus Christ will rule and reign forever.
3.

THE PERSON AND WORK OF GOD THE HOLY SPIRIT
The Holy Spirit is the third

P

erson of the Godhead, and He has always been, and will always be active as God. He is pre-existent, has personality, and possesses all the divine attributes.
His work in relation to the universe includes creation, preservation, and restoration. Jesus was conceived by the Holy Spirit, who seeks to exalt and glorify Christ. The Holy Spirit is the author and interpreter of the Bible and He convicts the world in regard to sin, righteousness, and judgment.
The Holy Spirit regenerates those who believe and baptizes them into the body of Christ. He indwells, gifts, and enables every believer. He guarantees that we are citizens of God's kingdom. Although He indwells every believer, God's Word exhorts each believer to be filled with the Spirit – to allow Him control and freedom to develop fruitful Christ-likeness. The Spirit-filled believer experiences assurance, power, liberation, guidance, and anointing for life and service. This service for God is all possible through the gifting, equipping, and enabling ministry of the Holy Spirit. The believer quenches and grieves the Spirit through neglect and sin.
In regard to the future, the Holy Spirit will continue His ministries to the universe, mankind in general, believers, and the exaltation of our Lord Jesus Christ.
God created man, male and female, in His image. Man has personality and exists as a whole person composed of body (material), soul, and spirit (immaterial). He has self-awareness, reasoning and relational capacity, moral awareness, and governing capabilities. Originally, man possessed a holy nature, but through sin this nature was marred, along with all aspects of his being.
The fall of man is a scriptural fact and a personal awareness in every human. It all began when Satan tempted Eve, who yielded and offered her husband the forbidden fruit. Then Adam also willfully disobeyed. As a result of the fall, Adam and Eve experienced a sense of guilt and shame, an unhealthy fear of God, expulsion from the Garden of Eden, pain and suffering, physical and spiritual death, and separation from the presence of God.
Thus, all mankind has inherited a fallen nature which has an aversion to God. All men are declared to be sinners and the entire world is under condemnation because of sin. Man's only hope for redemption, restoration, and eternal well being is a personal relationship with our Lord Jesus Christ.
There are two major moral qualities in Scripture: holiness, which is moral rightness; and sin, which is moral wrong. Sin is falling short of God's standard by attitude and action.
Although man was enlightened with God's will, he chose to disobey. This resulted in separation from God, guilt, hostility, bondage, and death. Every part of man is affected by sin and nothing within natural man can correct this devastating condition. Only in Christ is man saved from the penalty, power, and presence of sin.
Man's sin not only affected the entire human race but also the plant and animal kingdoms. There is an evil principle in man's fallen nature that is a fact of Scripture, of man's experience, and is obvious in our world's condition. Man's greatest need is salvation.
Once man is saved, he obtains a new divine nature from God. When a believer sins, it affects his relationship with God, himself, and others. He doesn't lose his salvation, but does lose his fellowship with God, and thus, becomes ineffective in worship and service. There can also be a loss of reward. God lovingly disciplines His children. When sin is confessed, and reconciliation is made, God restores the believer to fellowship and fruitfulness, although painful consequences may remain.
God's desire is that all men everywhere repent. John the Baptist, Jesus, and the apostles all taught repentance.
Repentance involves acknowledging personal sin, confessing your sin, and turning to

God

.

The mind regrets the sin, the emotions feel remorse, and the will is redirected to

God and His plan.
Man's basic nature is so fallen he cannot repent by himself but must accept God's enablement with sincerity of heart. God knows the heart of every man.
As a result of repentance, God, the righteous angels, and believers all rejoice. God forgives, pardons, and blesses with His indwelling presence.
Repentance and faith go together. This faith is not natural to mankind. It originates in, and is administered through the Godhead. As God enables man to repent of his sin, He also gives him faith to respond to Christ and His Word, as faith is taking God at his Word. This faith is demonstrated by belief, prayer, obedience, and good works.
The Christian begins his new life in Christ through faith and continues to mature and serve through faith. Someday the believer's faith will be realized fully. But for now, it is essential to walk with and to please God.
Regeneration is a new spiritual birth imparting God's divine nature to the believer, who then possesses two natures – one divine, one fallen. This new divine nature enables a positive response to God. Because natural man is dead in sin and lives in spiritual darkness, regeneration is essential for entrance into God's kingdom. Regeneration is not an accomplishment of man but is a supernatural act of God. Regeneration takes place when one responds in repentance and faith to the revelation of the Word of God by the Holy Spirit. As the heart is opened to our Risen Lord, new birth and entrance into God's family occur immediately. The results of regeneration include a change in attitude toward God, self, others, life, and sin. New love, joy, peace, freedom, victory, perspective, and assurance become realities resulting from the indwelling Holy Spirit.
Regeneration involves a change in the believer's state or nature. Justification involves a change in his standing before God as righteous, accepted, and free from guilt or condemnation.
Justification occurs through faith in Jesus Christ by God's free grace.
The results of justification are peace with God (legal and judicial), freedom from accusation, and the future hope of glorification.
Sanctification is a separation from evil and a setting apart for God. It involves a past event, a present process, and a future completion.
The Godhead is involved in sanctification. The Father planned it, the Son provided for it, and the Spirit performs it within the believer as he walks in obedience to God's Word and allows the Holy Spirit full control.
Redemption refers to the purchase or deliverance, through the payment of a price. Christ's sacrifice on the cross was the purchase price for the redemption of man from sin, death, and the wrath of God. The cost of his redemption was the "precious blood of Christ". Remembering this tremendous price paid helps us keep in focus the great worth of each individual to God. This definitely affects the way we see others and relate to them.
F.

SEPARATION OF THE BELIEVER
Walking in Christ means yielding to the Holy Spirit, who produces love, joy, peace, patience, kindness, goodness, faithfulness, gentleness, and self-control; against such things there is no law.
In contrast to walking in the Spirit, is walking in the flesh, the world (ungodly system), and the influence of the Devil. Pride, selfishness, immorality, impurity, sensuality, idolatry, sorcery, enmities, strife, jealousy, outbursts of anger, dissensions, envyings, drunkenness, carousings, etc. are all contrary to walking in the Spirit.
Believers are clearly instructed to separate from sin, not to belong to societies sworn by secrecy, and not to have entangling alliances with unbelievers – especially in marriage.
We are to separate from ungodliness listed in scripture. However, we are not to isolate ourselves from ungodly people.

W

e

are to reach out to them with the love of Christ, bringing them the "Good News" message.
We also believe that "walking in Him" means avoiding attitudes and actions that would be detrimental to one's life and testimony.
G.

THE PRIESTHOOD OF EVERY BELIEVER
The Lord Jesus Christ is our Great High Priest. Through Him, we have immediate access to God. Being joined to Christ means that believers also share in His priesthood.
Every believer is to be involved in God's Word and sharing God's Word as he/she is enabled. This priesthood involves bringing God to men through the ministry of the Gospel and bringing men to God through intercessory prayer. It also involves being a representative of God to the world.
Prayer is communion with God. Conversing with God is a privileged result of redemption. It is essential for maturing in Christ-likeness. Prayer involves worship, praise, adoration, confession, thanksgiving, supplication, and intercession.
Jesus taught and modeled prayer. The apostles gave themselves to the priority of the Word and prayer. Thus, prayer is essential for victory, development, and blessing. To neglect prayer is to sin and become unfruitful, which grieves the Lord.
Prayer is possible because the One Triune God is personal and desires fellowship with His children. The Father seeks to develop intimacy in fellowship with believers. The Son's perfect sacrificial work removed the barrier between God and man. The Holy Spirit enables and encourages believers from within to pray. God's Word is essential for praying according to His will.
The Bible clearly teaches that angels exist. They are created, spiritual beings. They are personal, having intelligence, feelings, and volition. Angels are powerful, eternal, and glorious beings. There is an innumerable host of angels who are organized by God. The holy angels have a heavenly and earthly ministry. In heaven, they worship and serve God. On earth, they guide and guard believers and also guide certain affairs of nations. They encourage and serve, and are involved in defending and delivering God's people. The future of these holy angels is glorious. They will return with Christ, will help separate the righteous and the wicked, and will enjoy His presence. Angels in God's presence include the cherubim and seraphim.
All angels were created holy but some fell through pride and disobedience. God's Word teaches that some of these fallen angels are chained awaiting judgment, while others are associated with Satan and his movement. Others oppose God, His purposes, and His people

(in the New Testament they are called demons)

. The future of these fallen beings is bleak indeed. There is no hope for their

redemption and they will be

forever in the Lake of Fire.
Satan is a fallen

angelic

being and is opposed to God,

believers, and all that is 1 and righteous. Some of his names truly describe his character and desire: the destroyer, the accuser of the brethren, the deceiver of the whole world, the evil one, the father of lies, a murderer, the tempter, . . .
The Devil holds a position of power and authority in the spiritual world, but he can only act within the limits set by God. Satan is not

omnipresent (all present), omniscient (all knowing), nor omnipotent (all powerful).

His temptations appeal to the desire to indulge, possess, and

impress. All of his activity is associated with the kingdom of Spiritual and moral darkness of which he is the leader. His desire is to captivate men and women, destroy them, and to be worshiped.
The Person and work of Jesus Christ rendered Satan a defeated but active foe. His doom is certain. He will be thrown into the Lake of Fire forever and ever.
Victory over Satan is possible for the believer by abiding in Christ, not giving the Devil an opportunity, being alert of his schemes, resisting him, and putting on the whole armor of God. The Holy Spirit enables believers to have victory and to share the Gospel which turns people from darkness to light and from the power of Satan to God.
The first mention of the church in the New Testament is, "Upon this rock I will build my church". Jesus said this in response to Peter's confession that Jesus Christ is the Son of God. Our Lord's promise was realized at Pentecost as the Holy Spirit came to indwell believers. The Church, which is the Body of Christ, grew rapidly and continues to grow and develop today under Christ's headship.
All believers compose the church universal. However, there are many local expressions of the church for practical worship, fellowship, edification, and outreach. Membership in a local church requires that the believer is to be growing, maturing in his/her relationship with the Lord, and living in obedience to God's Word. We would encourage every believer to actively identify with a local expression of the Body of Christ for

accountability,

fellowship, growth, and outreach.
The major purpose of the church is to worship and glorify God. This is done as each individual member is maturing in Christ-likeness and is using his gifts to minister to others in

service

and ou

treach. A healthy church is involved in the process of

evangelizing

(winning the lost), establishing (building the saved), equipping (training the workers), and exhorting workers to reach others. Godly leadership is essential. The church will continue to develop and function on earth until Jesus returns for His Bride.
Our Lord gave many instructions for individual believers. Two instructions (ordinances) we will practice as a body of believers are:
1.

The Lord's Supper


". . .for as often as ye eat this bread, and drink this cup, ye do shew the Lord's death till He come."
2.

Baptism


"Go ye therefore, and teach all nations, baptizing them in the name of the Father, and of the Son, and of the Holy Ghost:. . ."
Baptism is the first step of obedience for a new Christian. When administered by this church, baptism shall be by immersion, which we believe best pictures the believers' identification with our Lord in His death, burial, and resurrection. It shall be administered at the request of those who have personally acknowledged Christ as Savior and Lord.
These ordinances will be observed at the discretion of the Senior Pastor and the Leadership Team.
The return of Christ was announced by the prophets, John the Baptist, Christ, the apostles, and the angels. We believe that His return will be in two stages: first, He will come in the air for the church, and secondly, He will come to the earth with His church and holy angels. His return will be bodily, visible, and sudden.
When Christ returns in the air, the dead in Christ shall rise first. Then living believers will be transformed to meet Him in the air and will forever be with the Lord. Believers will then experience the Judgment Seat of Christ and the Marriage of the Lamb. Non-believers will experience the Tribulation period here on earth, a

seven-year

time of the wrath of God against lawlessness. However, during this period some people will turn to Christ and many from the nation Israel will repent, believe, and become active missionaries for the Lord.
When Christ returns to the earth, He will destroy the rebellious armies of the nations, cast the Beast and 0 Prophet into the Lake of Fire, and bind Satan for a thousand years. During this millennial reign of Christ on earth, there will be perfect justice, universal knowledge of God, peace, and prosperity. The believers will reign with Christ over the nations and Israel will be restored.
There are two major judgments coming: The Judgment Seat of Christ which is for believers concerning rewards, and The Great White Throne Judgment for unbelievers who will be sentenced to the eternal Lake of Fire. The resurrection of the unsaved will take place when the

millennium is

completed. The

final

destiny of the unrighteous is

"the lake of fire"

, a place of torment, misery, and darkness, whose inhabitants include the following: Satan and fallen angels, the Beast and 0 Prophet, and all unrighteous people.
Concerning the final events, God will create

a

new heaven and a new earth after the destruction of this present heaven and earth.
The destiny of the righteous is Heaven, a magnificent place prepared by God for eternal habitation. Its inhabitants include the following: God, holy angels, and all believers.
Latest Blog Post by salon -
Video- Somervell County Commissioners Court Special Sessions (2) Dec 23 2019
---

9 - Ed Shipman 15 Oct 2009 @ 10:07:50 PM
I believe you have a copy of an older version.

---
10 - salon 16 Oct 2009 @ 1:20:03 AM
@Mr Shipman. Let me be clear about this. I have not applied at Happy Hill nor have any interest in doing so; comments made about this were not because of any attempt at employment on my part. However, you apparently do not realize that what you call an older version is or had been at the time of my first post, handed out for potential employees. Perhaps you have changed the form since August 13, 2009 when i originally wrote about this but I can assure you that as of August 2009 that was the employment application-no idea if it matches the one on your website since one must have a password even to download it.
Latest Blog Post by salon -
Video- Somervell County Commissioners Court Special Sessions (2) Dec 23 2019
---

11 - anonymous former parent 16 Oct 2009 @ 8:35:15 PM
When I consider what Happy Hill Farm did for my son's life and for so many others, this seems like such a minor thing to quibble about.
---
12 - salon 17 Oct 2009 @ 12:05:26 AM
@anonymous former parent-I think you miss the point of why this was posted. No one in any context has said or implied that Happy Hill Farm is, to quote you
a cult where evil is cloaked by some fanatical religious agenda which is waiting to be exposed
That's a little extreme, isn't it? The point here is mostly informational. Happy Hill Farm as recently as mid-August of this year was giving people who applied for jobs an application form which required that the applicant read and agree with the religious beliefs stated therein or write why not. The form does not, as Mr Shipman said originally, have checkboxes on it. Mr Shipman then said that the application form doesn't have a space to sign at all, so I can only assume that the form has been changed over the last month and a half. As a private school that takes no money from governmental handouts, I have no quibble about what Happy Hill's reilgious beliefs are or whether they require those who want to work there to sign what basically is a religious loyalty test. Many people undoubtedly agree with the statements above and that's their right. When, however, Happy Hill says that their home is interdenominal, I believe it bears emphasis that people of other Christian sects or denominations other than evangelical may want to consider that the teachers are required to agree with particular viewpoints.
Latest Blog Post by salon -
Video- Somervell County Commissioners Court Special Sessions (2) Dec 23 2019
---

13 - Anonymous 31 Dec 2009 @ 11:06:28 AM
How much does a tour really show??
---
14 - SmallTownGirl 31 Aug 2011 @ 3:51:51 PM
---
15 - Anonymous former LUC 30 Jan 2013 @ 9:33:23 AM
---
---



Guest


Today Is
Thursday, April 22, 2021

---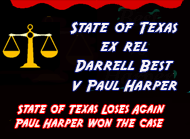 Latest Posts

More Blog Headlines