Salon is now an archive.
New site here
This site's archives
---
18 August 2009 at 12:31:11 PM
salon

I got a call a bit ago from one of the kin to Luke Humphrey, who is, or rather was, adisabled young man whose last residence was the Glen Rose Medical Center Nursing Home. Seems that Mr Humphrey died yesterday but an hour before the funeral, which was at 11:00 am this morning at Squaw Creek, the mom got a call, NOT from the father, but from the father's brother, that within the hour her son was to be buried. He called it a *courtesy* call. And then, when she tried to plead with him to please delay or postpone the funeral so that she could attend, he hung up the phone.

I'm just stunned. No matter what problems existed between the bio father and the mother (who RAISED HER SON UNTIL HE WAS !8 YEARS OLD and was the managing conservator), she should have been called WHEN HE DIED. I repeat, WHEN HE DIED. She lives in Longview and actually had been out of town visiting an ill sister, but since he died YESTERDAY, she could have been there in plenty of time for the memorial service that was held today, either by taking a red-eye flight back home or making the 4 hour or so drive from Longview. Obviously, the family didn't want the MOTHER to attend, not even to have a chance to hold her son one more time before he was put in the ground.

I'm only guessing but maybe they were afraid if they called her she would be hysterical and make a scene. So? I venture to guess there are a lot of funerals that go on where the people who attend are highly upset and maybe Even Make A Scene. (Again, that's my own conjecture and it's only to try to ferret out SOME REASON why they wouldn't have the boy's MOTHER attend. Or do they just despise the MOTHER that much???) If they were afraid of something besides a scene, they could have asked for police help. I mean, really. But not just not tell her about her son's death until it was too late for her to even attend.

I think this is one of the cruelest actions I have heard in a long, long time. Where was the common decency?

Update: For his mom-the grave pics from Squaw Creek Cemetery. And I also heard that yesterday morning even the Smith County judge knew about Luke's passing away. Makes me think that maybe they all knew he was failing...but no one told or included his mother.

Update #2. One of the people who commented last night, whose comments I will not post because they were attacks on the mother, mentioned that he (I assume it was a man) had attended the funeral along with a number of Luke's friends, and that Luke looked quite peaceful. If that is 1, then it means that the father made sure to call up the friends, and did not take the same care to call the mother. And that, while the friends had the opportunity to go to a viewing and pay last respects, the mother did not.

Suppose you had a mother in law you didn't get along with. Would you decide not to invite that one to her son's wedding or funeral? Any mother who has even a piece of a heart knows how it is when you have carried a child in your womb and given birth, that life raising a child is never perfect, and that there are always things you would do differently, so you would accord that privilege or chance to the mother of others you love, even if you yourself have issues with the person. Ms Mclendon wanted to be able to see her son and was consistently denied by what seems to me to have been capricious pretexts. A mother who has that kind of energy to risk being arrested to see her son is not the same kind of mother that abandons a child or shows no interest in his welfare. I say again that any mother that loves her son ought to have had the same chance that friends who were from Longview had, to come to his funeral, view the body and say last goodbyes at the grave. It is only common decency and it shows something about the character of those who denied her this.

Update #3 the obituary from the Glen Rose Reporter Newspaper of this week.

Notice that it leaves out almost everyone from the mother's side of the family. For example, while the stepmother to Humphrey is mentioned as well as Humphrey's stepsiblings, Dr Mclendon and Humphrey's half-siblings are not mentioned at all, nor is his two aunts on her side. AND they didn't bother to try to even spell the mother's name right. Clearly this was an obituary to include pretty much ONLY the father's side of the family.

Update #4 (Monday Aug 24). I notice in the comments below that one of Luke's aunts came up the following Friday (this last Friday) with the mom for some private graveside time. She was told by someone in the sheriff's department that people had known that Luke was dying the Friday before he died. Sigh. I don't think it was the sheriff's department's job to tell Ms Mclendon, but again, why in the world didn't the guardian move heaven and earth to make sure that the mom had a chance to say goodbye to her son?


Permalink Tags: luke humphrey glen rose medical center nursing home susan mclendon longview glen rose somervell
Views: 2068
Latest Blog Post by salon -Video- Somervell County Commissioners Court Special Sessions (2) Dec 23 2019
More Posts You Might Enjoy
Somervell County Almost Got the Luke Humphrey Case
Is Glen Rose Nursing Home a Completely Private Entity Or Is the Status Murky?
Red Rover Shenanigans at Glen Rose Nursing Home
Video-About Luke Humphrey-Susan Mclendon's Story Part 3 (Glen Rose Nursing Home)
Somervell County Salon Blog is now an archive site. Commenting not enabled.

Comments!
---

1 - Susan McLendon 18 Aug 2009 @ 5:07:10 PM
Debbie,
Thank you so much for taking pictures of my son's grave.
---
2 - salon 18 Aug 2009 @ 5:15:09 PM
@Susan-I'm so sorry. I think you should have been with him before he died, that it would have been decent for them to let you see your son. Or, af the very least, to call you yesterday after he died so that you could have been with him then or when he was placed in the ground. Hugs to you.
Latest Blog Post by salon -
Video- Somervell County Commissioners Court Special Sessions (2) Dec 23 2019
---

3 - an Ex teacher of Luke 18 Aug 2009 @ 5:37:45 PM
Luke was a wonderful young man.
---

4 - James 18 Aug 2009 @ 6:50:28 PM
Mrs. McLendon; Diana and I are so sorry for your loss, not be compared to your loss, especially under such circumstances, but we recently lost Job the dog Luke so enjoyed, Luke on his own would reach down to pet Job, I picture them together in the presents of Lord. May God help you remember the good times. Sincerly;James Williams
---

5 - susanna 18 Aug 2009 @ 8:26:15 PM
Susan,
---

6 - anonymous 19 Aug 2009 @ 12:21:03 AM
I cant believe the pain your going through susan. I'm very sorry that it had to end this way. As someone who worked at GRMC I wish that you know they just had to follow the rules, but I cant believe no one notified you in time. I am very sorry!!
---
7 - salon 19 Aug 2009 @ 8:39:56 AM
Posting for one of Ms Mclendon's sisters, who sent this through email.
This whole situation was not only sad for Susan but for Luke also. You know it's easier to handle a death if someone would have called Susan and let her know Luke was in serious trouble. But Susan also had a feeling something was going to happen to Luke, that's why she wanted to see for herself on July 14th how Luke was doing but remember they had moved Luke to another room and filed criminal trespass on her. Remember the NH kept telling Susan that Luke was alive and well. Well, so much for their observations and diagnosis. A MOTHERS instincts are never wrong when it comes to her children.

Here is the letter that I wrote and hand delivered to Judge Rogers in Smith County after we received the news about Luke.

(LETTER PASTED HERE-salon)

Patricia Pondoff

August 18 2009

Judge Randall Rogers,

It's sad to report to you the death of Luke Forrest Humphrey. He passed away

sometime Monday morning August 17, 2009.

What's even sadder is that no-one notified the Mother, Susan McLendon until

Tuesday at noon to let her know the funeral was in one hour, knowing she was in

Youngstown, Ohio. This was in direct disobedience of YOUR Court Order. The Mother

was to be notified of any illness that was severe.

Luke went into respiratory failure and no one assisted him because YOU failed to

rule on the DO NOT RESUSCITATE that we filed in December of 2008.

I asked you not to transfer this case to Somervell County but you did it anyway.

How appropriate that Luke passed away when the guardianship was in limbo between two

counties..

I thank God that Luke will no longer suffer at the hands of his abusers.

Everyone is accountable for what we do here on earth either before man and most

assuredly before God Almighty. You don't owe us an explanation but you will owe God

an answer.

McLendon had already buried one son, Mike, and was denied the opportunity to

see Luke, hold him, or tell him how much she loved him, was denied to opportunity to

attend her own sons' funeral and was not notified of his death until 1 hour before the

burial. How sick and how sad this whole situation is and each and everyone of you are

responsible for your part in it.

_______________________________________

Patricia Pondoff
Latest Blog Post by salon -
Video- Somervell County Commissioners Court Special Sessions (2) Dec 23 2019
---

8 - Susan McLendon 19 Aug 2009 @ 9:02:19 AM
Thank you for your kind comments.
---

9 - Katesmom 19 Aug 2009 @ 10:43:15 AM
These actions by the birth father
---

10 - Katesmom 19 Aug 2009 @ 10:59:01 AM
I am so sorry for the grief you have had to endure while your son was in the Glen Rose facility. There is just one way to describe the actions of the birth father--they have been evil. To deprive his son of the comfort of his mother and guardian for 18 years is inhumane.
---

11 - Tamela Kelley 19 Aug 2009 @ 12:26:25 PM
Mrs. McLendon,
Although I do not know you I wanted to tell you how sorry I am for your loss.
---

12 - Patricia Pondoff 19 Aug 2009 @ 1:31:54 PM
Tammy,
---

13 - Patricia Pondoff 19 Aug 2009 @ 2:19:35 PM
To All Who Are Concerned:
We are asking that in place of sending flowers, we would like for any of you who want to, to make a donation to Community Now which is an organization that assists with
---

14 - Linda Parsons 20 Aug 2009 @ 9:48:09 AM
I don't know all of the details, but it sounds to me like those people in authority here, just messed up another life.
---

15 - Evette Suominen 20 Aug 2009 @ 3:12:17 PM
OUTRAGED!
---

16 - Debbie Valdez 20 Aug 2009 @ 10:56:59 PM
Susan, Bill, Pat and JoAnn,
I am so very sorry for your loss. There can never be any explanation for such cruel and immoral actions of Luke's father. After meeting you Susan and Bill, and speaking with Pat at great lengths, I have concluded that had Luke's father never been in Luke's life, he might still be alive today. Luke was a human being, the court system failed him that is for sure, the court system failed your family in many ways, not only morally but criminally. But most of all Luke's father failed Luke. I am a firm believer in Karma, what goes around comes around, and God reminds of this everyday.
As a mother myself, I want to thank you all for sharing your story, and your experience, and what Susan has had to endure throughout this process has educated us all on Guardianship Abuse here in the State of Texas. It is very sad to think that Guardianship is 'supposedly' enforced in this state with many laws for the sole purpose of protecting the incapacitated individuals from abuse, neglect, and exploitation including their Civil and Constitutional rights.
---

17 - Mike Heller 21 Aug 2009 @ 9:46:55 AM
Susan,
Needless to say I was shocked to hear of the news of Luke's passing and the disgusting way it was handled. As someone who also has lost a child I know there is nothing that can be said to ease the pain or the anger that you feel. Rest assured that I am praying for you and Kari and the rest of the family and shortly more people than you know will be doing the same.
Also, if you want to talk you know where to find me.
---

18 - Joyce George 21 Aug 2009 @ 12:07:40 PM
---

19 - Anonymous 21 Aug 2009 @ 12:50:09 PM
I was told about this blog through a friend and I work for Glen Rose Medical Center.
I did not know Luke or his family ,but to be on the outside looking in it's pretty obvious
that the situation was mishandled. Sometimes things happen quickly, but I'm sure
hospice was overseeing sweet Luke and someone should have notified his mother..
whoever's responsibility it was to do that. WOW. How unbelievably cruel.
---

20 - Anonyous 21 Aug 2009 @ 7:33:25 PM
i am really familier with this case,
---

21 - Marcy 22 Aug 2009 @ 8:03:59 AM
---
22 - salon 22 Aug 2009 @ 12:37:37 PM
Take a look at the link in the first paragraph to the right of the photo for background info
Latest Blog Post by salon -
Video- Somervell County Commissioners Court Special Sessions (2) Dec 23 2019
---

23 - Patricia Pondoff 22 Aug 2009 @ 8:54:42 PM
I spoke with Lt. Dahl yesterday, Aug. 21, 2009 and he informed me that everyone was aware on Friday that Luke was dying and wasn't going to make it.

How could the Humphrey family not notify the Mother? Judge Rogers ORDERED Landy to notify the mother of any condition more serious than a common cold.!

Judge Rogers on his own Motion should hold Landy in Contempt of Court for disobedience of his order.

The Somervell Sheriffs' Office was aware of Lukes' condition on Friday also. Where was their duty and moral obligation to notify the Mother??? Peace Officer is an oxymoron phrase--the action does not fit the title. Where is the Mothers Peace???!!!

After leaving the Sheriffs' Office, I returned to the Cemetery to join my sister and her family to pay our respects to Luke and guess who shows up, Landy's mother, then later that evening Susan got a call from Landy that she did not answer and I received 2 calls, 1 @ 8:51 pm and another @ 8:53 pm. and I did not answer.

Question is: Did Lt. Dalh call the Humphrey family to let them know we were in town and at the cemetery? Or was the grandmothers appearance at the cemetery and the phone calls from Landy just a coincidence?? What's your opinion?

It's a pitiful shame when the mother and her family cannot even go to the cemetery to pay our respects without being harassed.

For 4 years they refused to communicate with us. What could they possible have to say that would ease the pain of their cruel and abusive actions?? Or were they wanting to see our reaction?

To The Humphrey family: We would never take any physical action against any of you because we could NEVER stoop that low!! We would never bring ourselves down to your level. "Vengeance is mine: I WILL repay, Saith the Lord". Romans 12:19 And he will show all of you as much mercy as you have shown Luke and his Mother.
---

24 - Patricia Pondoff 23 Aug 2009 @ 10:45:34 AM
Everyone needs to call their Senators, Congressmen/women, and Legislators and let them know that what happened to Luke Humphrey and his Mother will never be condoned.
---

25 - Alecia Peyton-Riley 23 Aug 2009 @ 11:24:02 AM
Susan and Kari,
I don't know if you remember me or not, I used to model for you when you had the dress shop. I saw Kari not long ago @ Home Depot, when we were building our house. I am so very sorry for your loss. I can't believe how this was handled. I hope that if anything happens that maybe this horrible thing will not happen to anyone else's family. I hate that your family had to be the example, but maybe something good will come out of it. You and your family are in my prayers.
Love,
Alecia Peyton-Riley
---

26 - Christine Ratcliff 23 Aug 2009 @ 1:22:46 PM
Susan & Kari:
---

27 - PTHS Parent 23 Aug 2009 @ 2:48:02 PM
There are two sides to every story and the truth is usually somewhere in the middle.
---

28 - Susan McLendon 23 Aug 2009 @ 3:19:06 PM
Dear Friends,
Here is Luke's obituary we put in the Longview News Journal today.
---

29 - Susan 23 Aug 2009 @ 3:34:53 PM
Dear Friends,
This is Luke's obituary we had put in the Longview News Journal.
Thank you for your thoughts and prayers, it means so much to our family,
Bill, Susan, Kari, Thomas, & John.
https://www.legacy.com/obituaries/news-journal/obituary.aspx?n=luke-forrest-humphrey&pid=131732135
---

30 - carol 23 Aug 2009 @ 4:10:28 PM
i hope good morning america picks this up, it sounds like criminal charges should be filed. my ex and i don't let our feelings for each other affect the well being of our 2 girls, 18 &21. luke should be bought back to the area (pine tree) where he was loved and known.
---

31 - Len & Barbara Budai 23 Aug 2009 @ 5:10:11 PM
Susan, Kari, Bill, Thomas and John
Think of him not as gone, but rather awaiting your arrival. We will all see Luke again in the very near future. My wife and I will remember him and his family in all of our prayers. I came to know Luke thru Kari, and found him to be a very wonderful person. God calls all of us for some special purpose, Luke was called to show us how to respond to others. Let us not forget.
---

32 - Ellen 23 Aug 2009 @ 5:28:16 PM
My heart breaks for you and your family. I know the hurt you feel now is one that I hope to never experience. But the cruel and inhuman way you were done by your ex-husband is unforgivable. Lucky for them God is forgiving. I worked in nursing homes for 12 years and feel that the nursing home should have called you. Know now that Luke is wrapped in the arms of God and and one day his father will stand before him and God and answer for this horrible act. A mothers love is the most powerful love next to God's love. Luke knows and he will let his father know how much he hurt him.
---

33 - Jerry Ann Clark 23 Aug 2009 @ 5:48:24 PM
Dear Susan,
---

34 - Candace Jackson 23 Aug 2009 @ 8:34:56 PM
Susan, Dr. McClendon, and Kari~
My heart broke this morning when I saw Luke's obituary.
---

35 - Susan 23 Aug 2009 @ 10:17:50 PM
PTHS parent,
This side of the family did put away our differences, I cried, begged, and pleaded even sent letters to Landy and his family to let me see Luke. His family refused. I don't hate Landy or his family, I pity them. Landy got temporary guardianship without my knowledge while I spent 105 days at the hospital, never leaving Luke's side. Then he owned Luke. He immediately threw the whole maternal side out of the hospital and continued to use his power to try to hurt our family. The only one he really hurt was Luke. Did you go to the four years of hearings? Did you go to visit Luke? He needed that. Until you have read the court documents in this whole blog and see the real truth, you need not pass judgement on the families. Do you think if Luke had a choice he would have chosen death over life? I know he wouldn't. Yet his father chose that for him by signing a DNR and a NO CODE on his son. It's not a matter of whose right and whose wrong it is a matter of WHAT is right and WHAT is wrong. Luke did not chose to be removed from rehabilitation and thrown in a nursing home, four hours from his family and friends. Luke did not choose death, it was chosen for him. Luke could have been rehabilitated and lived a long and happy life. That was taken from him.
Did Luke lie alone in his bed and choke on his own vomit like he had so many times before, and when they found him he was diagnosed with pneumonia aspiration. Is this pneumonia the way the father let him struggle for his last breath? Luke was "failing" from respiratory failure on Friday, as Carla told Lt. Dahl, why wasn't he taken to the hospital and cared for?
I will continue my fight for the rights of those who cannot speak for themselves, the helpless who are abused by the power a guardian has over his ward and the indifference Department of Aging and Disability (DADS) showed when the Glen Rose Sheriff's office had an ongoing investigation into the abuse and neglect of Luke. DADS refused to even investigate. The Sheriff's office has pictures of Luke's bruised arms and bloody throat. Before you try to be a psychologist into the Humphrey ordeal, perhaps you should have gotten involved in the fight for Luke's life. It's easy to stand in judgement when you know nothing of the circumstances.
---

36 - KIM ROGERS 23 Aug 2009 @ 10:18:16 PM
I HAVE BEEN READING ABOUT LUKE AND THE WHOLE SITUATION. THIS IS SO WRONG. HOW CAN ANYONE LIVE WITH THEMSELVES AFTER DOING SOMETHING LIKE THIS? I AM SO SORRY FOR WHAT YOU ALL HAVE BEEN GOING THROUGH. YOU WILL REMAIN IN MY THOUGHTS AND PRAYERS. HANG IN THERE FOR OUR GOD IS IN CONTROL.
---

37 - Kaylynn Powers 23 Aug 2009 @ 10:54:19 PM
OMG, Susan I am so sorry honey, Iam so proud of you for never giving up what an awesome mommy you are and how blessed Luke was
---

38 - Cindy 23 Aug 2009 @ 11:18:03 PM
Dear Mrs. McLendon and Family,
I am so sorry for your loss and the unfathomable heartache that you and your family have endured over these years.
---
39 - pharper 24 Aug 2009 @ 4:19:18 PM
Exactly!!! Why hasn't someone that works there been prosecuted for it?
Latest Blog Post by pharper -
Paul Harper offered to settle State of Texas ex rel. Best v Harper lawsuit for $68k back in 2016
---

40 - Jeremy 24 Aug 2009 @ 5:32:13 PM
I went to school with Luke all through the beginning of our lives. Graduated with him in 2004. Luke was an awesome guy. I say that not being his best friend ever but a general aquaintance. We had a lot of classes together and I'll never forget his sense of humor and kindness to everybody. All I can say is that this has been a huge injustice done against luke and his mother. I'm praying for everybody in this situation and may Luke finally rest in peace.
---

41 - Susan 25 Aug 2009 @ 9:36:17 AM
Salon,
Thank you for removing all the private details of Luke, I want Luke to have the honor and respect he so deserves. All of his injuries, bruises, and diseases are healed and he is pulling pranks on the angels. Luke came out with 'punked" before it was on TV.
This was Luke Forrest Humphrey: There was the time Luke snuck out of Kari's house. When he returned very late he tried to climb back ino his window. Kari has three dogs who went wild knowing someone was climbing in the window. So Kari was standing in his room as he was climbing into the window. Kari had a talk with him and she laughed at how Luke thought he could get away with sneaking out with three dogs in the house.
Then there was the time he would come in very serious and tell me he wrecked my car and act really sorry , and as I asked all the parent questions, what happened, was everyone okay, did you call the police? He would coax me out to see the damage to my car then he would laugh because he was just pulling another prank and he got me to fall for it.
Then there was the time we bought a new washer and Luke and his friend Grayson were about nine years old. Luke decided they could put this box over their heads, (which came to their knees) and they would walk from our house to Grayson's. We movied them as they wound their way through the neighborhood to Graysons house, (which was all cul de sacs). They were giggling and laughing so much the box would teeter from side to side as they tried to keep it balanced between them, to keep from falling over. Around the corner from the house the neighbors truck was parked at the curb and since they were following the curb we debated whether to warn them, we decided to let them have fun and see if they would go around the truck. But they were laughing and giggling so much they walked straight into the truck, there was a BUMP and the box with two boys in it went tumbling onto the grass. They were laughing so hard they were crying and so were Bill and I. They eventually stopped laughing enough to get up and continue their journey to Graysons.
Luke was always a prankster. The time he came in with an earring in his ear, telling me he had pierced his ear. I always felt my children should express themselves, however this was not an expression I favored. As I sat with my mouth open debating what to say, he played up the story saying everyone has one and don't you think it's cool? Finally after trying to convince me how great this was, he pulled off the magnet from behind his ear and laughed at my reaction.
The Wheel of Fortune story is one of my favorites; Luke would do his homework as soon as he came in from school. He would have the TV on and be in his room. He would come out every evening at 5pm to watch Wheel of Fortune with me before Bill got home from work. Well they would have 4 letters on the board P W H A and Luke would yell out 'Paradise in Hawaii' and he was right, the next game the same thing, this went on for two weeks, I would tell him to give me a chance to guess. He would laugh after each game he solved. I told him we need to write in and get him on the show because he was so intelligent. Finally Luke laughingly told me, he had watched the show at 4pm in his bedroom and already knew the answers when we watched it at 5pm with me, I had to chase him around the house with a pillow for that, and we would end up in a pillow fight. We laughed and had so much fun chasing each other all over the house. That usually carried over into a water fight, of course Luke starting it, first the squirt gun, then a small glass of water, then a pitcher of water, next came the hose outdoors. Kari, John, Luke ,and me had pillow and water fights all the time. Luke was usually the rascal that started it, and the race was on.
Those are just some of the memories I cherish. Do you have any to tell about Luke? I would love to hear them!
---

42 - Margaret 25 Aug 2009 @ 11:15:11 AM
Susan, When I picked up the Sunday newspaer yesterday and saw that Luke had passed away I couldn't believe it.
---

43 - Susan 26 Aug 2009 @ 12:06:18 AM
I do remember those of you who are writing in, and know that I feel so blessed that you remember me. Thank you for words of comfort, it means a lot to me. Susan
---

44 - Tia Evans 26 Aug 2009 @ 2:25:30 PM
To the Family of Luke Forrest Humphrey,
---

45 - Anonymous 27 Aug 2009 @ 10:13:54 AM
Trust me... there are two sides to this story and
---
46 - salon 27 Aug 2009 @ 10:20:15 AM
@Anonymous- I agree with you, there always is. I have said here before that if anyone wants to post factual information presenting that other side, other than just attempting to character assassinate from a general standpoint the mother, I'll post it. So, let's have it. What is the other side of the story, with the same type of proof?
Latest Blog Post by salon -
Video- Somervell County Commissioners Court Special Sessions (2) Dec 23 2019
---

47 - susan 27 Aug 2009 @ 11:55:55 AM
Susan's
---

48 - Patricia Pondoff 27 Aug 2009 @ 12:40:54 PM
We have been begging the Humphrey family for 4 and 1/2 years to please tell us and show us the evidence that you have against Susan.
---

49 - Anonymous 27 Aug 2009 @ 4:47:19 PM
Very shocked and dismayed by this whole appalling situation.
---

50 - Susan 29 Aug 2009 @ 11:26:56 AM
would like to post a letter that was sent out regarding guardianship abuse and how the Department of Aging and Disability Services (DADS) is a very harmful organization involving our most vulnerable, incapacitated family members. This happened to me, I believe this letter says it all;
It is most unfortunate to see the story about Mr. & Mrs. Kidd of Richardson specifically at this time. I am an advocate for families who have children and young adults with disabilities. I am also a parent of a young girl with multiple disabilities. Currently, I am advocating for families affect by Guardianship Abuse here in Texas. Within my work on this issue, I have recently encountered a very similiar story in Fort Worth of a woman who was given temporary guardianship of her elderly mother. At the time that permanent guardianship was to take place, an organization named Guardianship Services, Inc. in Fort Worth had documents prepared to take over guardianship. The daughter refused to allow this, and she then was named as guardian. However, shortly after this, the family began to complain about how their elderly mother was being treated and cared for. They proceeded with a formal complaint to the Texas Department of Aging and Disability Services. Once the complaint was filed and recieved, within 1 hour the daughter's guardianship was revoked and Guardianship Services, Inc. was given permanent guardian. Another parent of a young girl with disabilities also lost guardianship of her daughter to Guardianship Services, Inc. This case has gone on for 3 years and the mother has minimal to almost no visits or contacts with her daughter. Another family who has a 38 year old girl with disabilities also lost guardianship of their daughter to Guardianship Services, Inc. Guardianship Services, Inc. is a contract provider of the Texas Department of Aging and Disability Services. Once a formal complaint is filed with the state agency, all complaints are found unsubstantiated, and the families then become victims of retaliation and they are removed from their loved ones lives. They are told that if they contact media about their stories that they will never see their loved ones again. Guardianship Services, Inc. controls their lives and they are not allowed to discuss any medical treatments, therapies, etc. They are being watched and expected to ask no questions, which they don't because of the threats of losing their loved one entirely. These families are not being given their civil right to due process whether they can afford it or not. If the families become difficult, they are set up by allegations of neglect, interfering with treatment, cruelty, etc., driven by a complaint to Adult Protective Services. They are then charged with an offense, and are no longer eligible to request or regain guardianship. In the attempt to regain guardianship, they must have these offenses overturned after a completion of the investigation of the Adult Protective Services. The Texas Department of Aging and Disabilty Services and the Texas Department of Family and Protective Services and Probate Courts police themselves. There is no accountability or oversight that does not run outside of these two agencies whom in this state are the only agencies who have control over the incapacitated individuals and have more rights than the parents and families to children, elderly or people with intellectual disabilities. There are several other cases of guardianship abuse, and abuse of the state agencies taking children, and disabled adults away from parents and families outside of the Fort Worth areas. This has become a major interest in my part, as I a parent of a child who requires guardianship in the State of Texas I am very scared to even face this Guardianship Monster. As I and all the other families that I have been working with see this, is that a Judge and the Guardianship Programs regulated by the Texas Department of Aging and Disability Services becomes the owner of our children and elderly parents once a guardianship is filed and recorded. Attorney ad Litems are appointed who know nothing about the individuals they are appointed to serve and make all decisions, which in my opinion serves no purpose for a parent or family member to gain guardianship when they have more rights than we do. We are currently working as a group to secure our civil rights and to ensure our Consitutional Rights in this state. We should not have to be victimized by Power Happy Judges, and State Agencies in control of our lives and the lives of our incapacitated individuals. On August 7th a group of family members attended a meeting with the Senate Jurisprudence Committee Director Katie Ogden, who works for the Chairman of this Committee Senator Jeff Wentworth to discuss the abuses of the judicial system on these particular cases, including one other family who just recently lost their loved one on August 17 at a nursing home in Glen Rose Texas. The mother exhausted her financial resources in a 4 year battle in Smith County in all her attempts to become her 23 year old Tramatic Brain Injured son's guardian. There is a 4 year history in this case, and it smells like abuse and corruption in the judicial system in this county, particularly in this case. Luke Humphrey 23, died on August 17th, he was buried on August 18th @ 10:00, his mother was out of state and was contacted after he was buried in Glen Rose Texas and notified that her son had died. His mother Susan McLendon contacted me frantic when she heard the news asking me to contact Senator Wentworth's office asking if he could help with stopping the funeral so she could get on a plane and come home. Unfortunately she was told that he was going to be buried in 1 hour, but yet knowing that he had already been buried by the caller. Ms. McLendon had a court order of visitation, but was charged with criminal tresspassing by staff at the Glen Rose Nursing Home, which kept her from ever seeing her son alive again. She was notified after the funeral that those charges were dropped. It is sickening that these are real life stories here in this state and people in charge are getting away with abusing their power in the judicial system and there has yet to be any accountability on any of these cases from any state agency that have been created in protecting and serving the population that they serve. I could share much more with you as we as a group are determined to find the justice and the protection of this state to ensure that this will not continue. We have all been victimized by the Texas Department of Aging and Disability Services, the Texas Family and Protective Services, in one way or another, some of our loved ones will and have suffered irreversible damages. Luke Humphrey lost his life because the Agency regulated by this state failed to protect him by one of their contract provider agencies. His case however is not related to the other cases pursuant to Guardianship Services, Inc.. His attorney ad litem appointed by Smith County Probate Judge failed to protect his civil rights, therefore he died. The families including myself fear retaliation on Guardianship Abuse in this State, for us Guardianship means that not only do the incapacitated lose their civil rights, the parents and families do as well under these laws because the state and their unethical practitioners own us all. There are no protections for us after accomplishing guardianship, families have lost their entire savings in fighting for their loved ones, specifically when we are up against self interests and monetary priveledges. It would be most interesting if you could investigate if Mr. & Mrs. Kidd are owned by Guardianship Services Inc. of Fort Worth. This seems to be an ongoing trend with this organization, and it is a known fact that the Judge makes donations and contributions to this organization as do the court investigators. I will share with you the advertisement of Guardianship Services, Inc. on their website: www.guardianshipservices.org To provide guardianship and alternative services to legally and functionally incapacitated individuals who have no family willing, able or suitable to serve in that capacity. In Addition to: Welcome, Guardianship Services, Inc. (GSI) is in the business of making prudent decisions for people who can no longer make or communicate decisions for themselves. As Payees, we make decisions to ensure that our clients' limited resources are used for their benefit. As guardians, we make decisions for others about health treatment, housing, finances, and services. We take this responsibility seriously. Our goal is to provide clients with as much autonomy as possible while protecting them from mistreatment or neglect. This is a delicate balancing act. GSI serves as a last resort. All other alternatives have been tried. No friends or family members are available or suitable to do what we do. Our involvement takes a client from a world of loneliness, despair, illness, and exploitation to a world of hope.
Guardianship Services, Inc. removes all these opportunities and these rights they identify in their advertisement from those they serve and their families. Specifically from the families I am working with who are owned by this organization at this time. Guardianship Services, Inc. is a Contract Provider in the Guardianship Programs regulated by the Texas Department of Aging and Disability Services. My heart goes out to Mr. & Mrs. Kidd of Richardson, I can only hope that they are not being affected by this organization. After all, what is happening to them and the families affected by Guardianship here in the State of Texas can and will happen to all of our parents, or any loved one that may become incapacitated or came into this world vulnerable such as my daughter needing protection through out their entire lives. Luke Humphrey was not born with a disability, he graduated and was going to college. He was involved in an automobile accident. Prior to this, as a young boy spreading his wings, exploring life, he had a DWI, his licensed was revoked, and his biological father assisted him in retaining a 0 driver's license, loaned him his vehicle and he was involved in an automobile accident. He suffered traumatic brain injury, his father was appointed his legal guardian after his negligence and criminal act. Luke was not raised by his biological father, he was raised by his mother and his step father. He had a half brother and sister who were not out of town at the time of his death, they were not notified of his death. I appreciate the opportunity to disclose this information with you. I provide this in the hopes that you may further investigate these circumstances. Media at this point would be most beneficial in determining just how many other taxpayers in this State have been affected by this cruel and unethical MONSTER called GUARDIANSHIP, and the ABUSE OF POWER in the STATE OF TEXAS. In conclusion, WE ALL FEAR RETALIATION, we could lose our incapacitated loved ones forever. We understand the consequence, however we all need and want protection in order to proceed with media attention, specifically for those families who are still in the hands of Guardianship Services, Inc. We will proceed with our plan with the Senate Jurisprudence Committee and other options that we are currently working on. THIS STATE HAS FAILED IT'S MOST VULNERABLE POPULATION, AND ONE DAY WE WILL ALL BECOME VULNERABLE. Please feel free to email me, if you would like to discuss this further. I would appreciate your protection before you would proceed with the information I have provided.
Debby, San Antonio, Texas Sleep with angels, Luke Humphrey and rest in peace. You have been delivered from all evil.
Debby, Thank you for a beautiful letter. Susan McLendon
---

51 - Susan 29 Aug 2009 @ 11:35:13 AM
This was the real Luke without being over-medicated at Glen Rose Nursing Home, January 2006 we were celebrating his 20th birthday. I brought a huge cake for the patients to celebrate with us. The nursing home put the cake back in the break room and when we asked them to bring it out to Luke, the staff had already started eating it before Luke even had a chance to see it. It had a whole corner missing from the cake.
---

52 - A daughter of A mother 29 Aug 2009 @ 9:32:03 PM
Susan (and family),

I am deeply sorry for your loss. I have read over the case as well as the blog and articles. I sympathize with you though I do not know you.

tI would like to state a few things.

In your earlier blogs you said, "bring it on" multiple times. Okay, I will.

I visited the nursing home often not only because I had family there, but also because I had friends there. Though I did not go for some time, I was kept updated on the situation of my friends, one being Luke whom I had met when he first took up residency in 2005.
---

53 - Bonnie Lollar 30 Aug 2009 @ 12:05:01 PM
Susan after seeing Luke's obituary in the paper I had to see who would do such a thing to a mother. What I found was a Dead Beat Dad getting even for having to pay child support or rather forced to pay child support. I know Luke is in a better place and you will be together again someday. May God have mercy on Landy Humphrey's soul.
---
54 - salon 30 Aug 2009 @ 1:11:05 PM
Note from Salon. I'm not going to edit anyone's posts to take character assassination out. Leave it out and make your point or your entire post will be deleted. If you don't like people involved in this, fine. But I also don't have to okay your posts if you want to trash people instead of just talking about the facts or your perceptions based on facts.
Latest Blog Post by salon -
Video- Somervell County Commissioners Court Special Sessions (2) Dec 23 2019
---

55 - An outsider looking in 30 Aug 2009 @ 3:46:17 PM
---

56 - Patricia Pondoff 1 Sep 2009 @ 8:30:10 AM
Outsider looking in,
---

57 - Susan 1 Sep 2009 @ 9:51:58 AM
Wanted to correct you on the confiscated box of evidence, Judge Randall Rogers ONLY returned the books I had on Traumatic Brain injury that was in my box. All certified documents and recorded conversations with Killough and Landy have NEVER been returned to this day and the Judge ignores my request to have them returned. Three requests have been filed in Smith County Courthouse, all have been ignored.
---

58 - Susan 2 Sep 2009 @ 1:29:42 PM
Friends,
This is just a note to clear things up with the would be psychologist's trying to figure Landy and me out. Landy stated in the T.I.R.R. medical records that we had a "17 year co-parenting working relationship". We did! You asked what happened? I don't know. The only differences we had was I wanted Luke to live regardless of his condition and the Humphrey family felt Luke would be better off not living. Luke's death certificate states "pneumonia aspiration", which means Luke choked on his own vomit and was refused to be taken to the hospital next door. Thank you for your prayers.
Susan McLendon
---

59 - Erin Shaver 11 Sep 2009 @ 10:12:08 PM
I went to school with Luke and graduated with him in 2004. I always remembered his charming smile and his playful characteristics. I am very saddened to learn of not only his accident, but also his death. This situation is so sad. Susan, I hope that you are successful in your quest. If there is anyway I can support you, please let me know. I will be praying for you and your family, although, God already knows your grief
---

60 - susan 24 Sep 2009 @ 7:54:10 PM
Erin,
Tried to find you on facebook, perhaps you
---

61 - Angela Newton 27 Oct 2009 @ 6:32:42 PM
Susan,
I also went to school with Luke and graduated with him in 04. Me and Luke were never really friends, more aquantiances. He was always nice to anyone he came across. He always said hello. He was such a sweet guy. I am very sad for you and your family with all of the things you have had to go through. Like Erin I also did not know about his car accident but to also hear that he passed away is very sad. I hope God can help you through this dfficult time and let justice be served.
---

62 - Rebekah Baldwin Graves 28 Oct 2009 @ 10:47:28 AM
I also went to school with Luke!
---

63 - BBrown 31 Oct 2009 @ 4:39:38 PM
Hi Susn;
---

64 - Susan 16 Nov 2009 @ 1:17:19 PM
Dear Friends,
I see so many people are still looking at Luke's blog, I want to share with the concerned people who continue to look at this blog for more answers into the why of this whole ordeal and what really happened in the Matter of the Guardianship of Luke Forrest Humphrey. What the individuals involved could have done to prevent it. Luke should be alive and healthy attending rehabilitation like his neurologist ordered for him in the Spring of 2009 after diagnosing Luke in a Locked -In state, with full cognitive abilities. However the neglect of DADS (Department of Aging and Disability Services), Ombudsman who turned their head and Sheriff's Deputies who witnessed the abuse but had a boss, Sheriff Greg Doyle who refused to intervene or help with the investigation know as "injury to a disabled individual". Sheriff Doyle refused to allow Lt. Dahl to subpoena any of Luke's medical records. DADS also refused to investigation any of the multiple bruises to Luke's hands, arms and shoulders along with his raw bloody throat after the May 11, 2009 incident report. The whole "investigation" was a sham, I believe it is time to share the open records request of that investigation and the 0 warrant that was said to be issued yet according to Sheriff's records never signed by the judge as I was made to believe. The $1,500.00 bond was nothing more than a hoax and the question is, had I paid he $1,500.00 to the Sheriff's office where would that money have gone? This warrant for my arrest was nothing more than a scare tactic to keep me from coming to Glen Rose while they slowly murdered my son. In the next weeks I will be sending the entire file of the Sheriff's records to be viewed on this site by the Senators, Congressmen, attorney's and individuals interested in the Luke Forrest Humphrey Story. Salon blog permitting. Half of the documents sent to me in these records were missing pages and the pictures taken of Luke's injuries I was told the film or CD was "corrupted" and not available, yet in documents that were provided to me it states "pictures attached". None were sent to me. The District Attorney of Glen Rose refused to prosecute David Dennis for grabbing my arm an throwing me out of the nursing home which to my knowledge is publicly owned. The nursing home informed me that Luke's medical records that the court ordered me to have every three months were now sealed documents and no one could see them. This gross neglect on the part of the Nursing home, Sheriff's Office and District Attorneys office resulted in the cover up and death of my son. The documentation on this will be forwarded to Salon in the upcoming weeks and when she has time hopefully she can post these documents.
I especially want to thank Salon for her time and dedication to try to help a helpless handicapped young man and his family. Much is being done and so many aware of the injustice that was served upon this family because of this blog. My thanks to each of you who have written and continue to be a interested in those harmed by Guardianship Abuse. I will continually fight for the rights of incapacitated individuals and to see to it that those who would condone the abuse of our loved ones WILL be brought to justice. I am attending meetings in Austin and Waco with DADS as a stakeholder, our Senators, and Texas Guardianship Association to change the laws concerning guardianships and Mothers rights along with a family's right to see and be with their loved ones who are being held captive by the very ones appointed to protect them.
Susan McLendon
---

65 - Cora Seymour 25 Jan 2010 @ 6:44:17 PM
---
66 - salon 3 Mar 2010 @ 8:54:39 AM
Latest Blog Post by salon -
Video- Somervell County Commissioners Court Special Sessions (2) Dec 23 2019
---
---



Guest


Today Is
Wednesday, June 29, 2022

---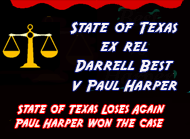 Latest Posts

More Blog Headlines