Dan Patrick is a nut. Despite his saying that the "Bathroom Bill" does not discriminate against transgender Texans, people of common sense know that it does. I never in my life thought there would be such an oppressive intrusion into people's private bathroom business that a person might have to carry around a birth certificate to prove his or her gender. None of Ya Business, Republicans! I read that some transgender people specifically limit what they eat or drink during the day in order not to have to even use a bathroom. That's ridiculous. For me, I have never paid much attention to anyone else in a bathroom. I assume others are using the bathroom in a private fashion and don't want, rudely, to be paid attention to. If I ever did encounter someone who gave me the creeps, I'd immediately go find a person of authority, but that's not based on the sex of someone or how that person looks, it's based on someone being creepy or threatening.
As a matter of comparing the Texas Senate v the Texas House, the Senate Republicans wanted
a bathroom bill that would effectively keep transgender people out of the restrooms they want to use in government buildings and schools, as well as axing a number of local laws meant to protect their rights.
while the Texas House bill is a
much narrower version that would require single-stall restrooms to be made available to transgender students who do not wish to use the multi-stall facilities. Schools said it would not keep transgender students from using the restrooms that match their gender identity.
Joe Straus, who is the Speaker of the Texas House said in his news conference on Friday
"If the Senate wants to pass a bathroom bill, it can concur with the bill that we passed earlier this week," Straus, R-San Antonio, said at a hastily called news conference. "It's absurd that bathroom bills have taken on greater urgency than fixing our school finance system."
Meanwhile, a number of businesses sent a letter to Greg Abbott regarding this. The businesses include, 14 in total, Dell, IBM, Apple, Facebook, Microsoft, Cisco.. etc, ALL business that employ people in Texas. I myself used to work for Microsoft in Irving and one of the great things about the company was the tolerance and diversity. I can't imagine one of my coworkers being forced, when using a government building, to be questioned about which bathroom he or she wanted to use. Again, why do some Republicans want to force their own views on people that are essentially private NONE OF YOUR BUSINESS?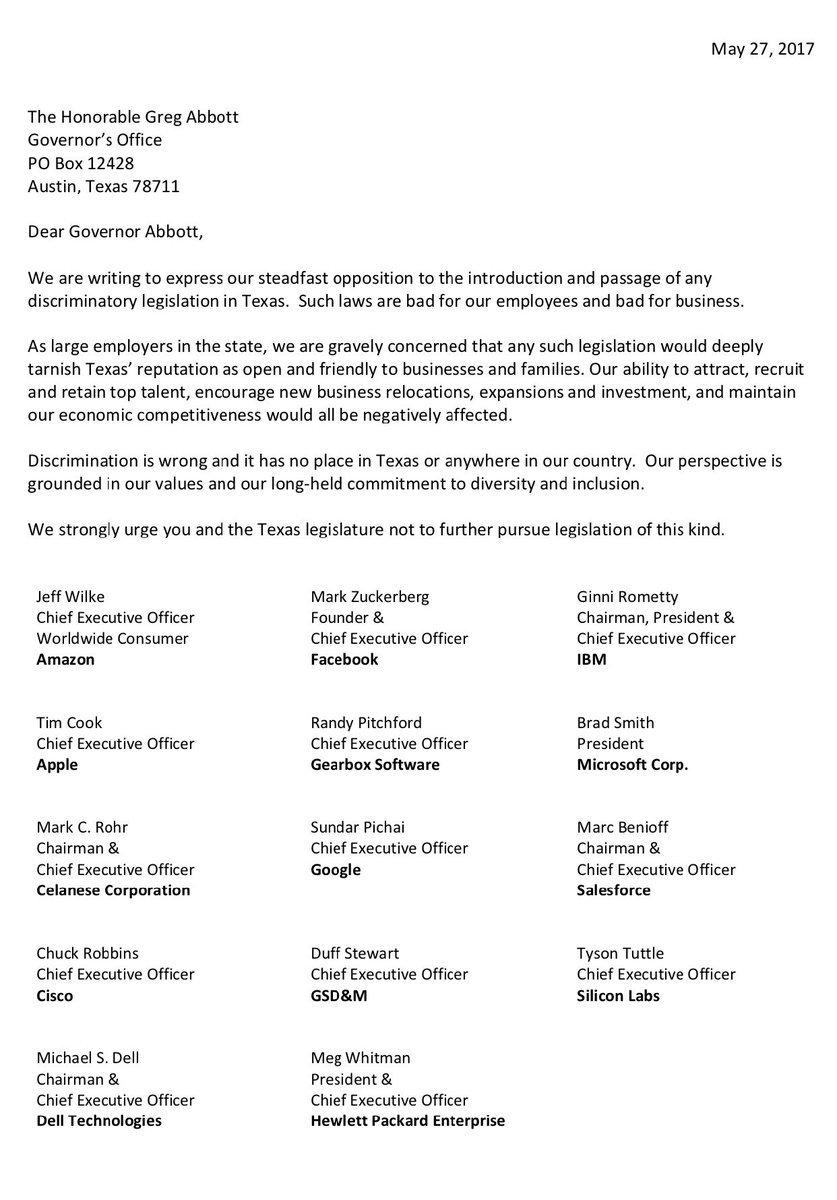 The letter says, in part
We are writing to express our steadfast opposition to the introduction and passage of any discriminatory legislation in Texas. Such laws are bad for our employees and bad for business.

As large employers in the state, we are gravely concerned that any such legislation would deeply tarnish Texas' reputation as open and friendly to businesses and families. Our ability to attract, recruit and retain top talent, encourage new business relocations, expansions and investment, and maintain our economic competitiveness would all be negatively affected.

Discrimination is wrong and it has no place in Texas or anywhere in our country. Our perspective is grounded in our values and our long-held committment to diversity and inclusion.

We stronly urge you and the Texas legislature not to further pursue legislation of this kind.
and it's not just businesses in Texas. Global investors warning Texas about their *hate* as well-Houston Chronicle
Global investors with more than $11 trillion in assets sent a letter to Texas' top elected leaders on Tuesday urging them to reject a proposal restricting which bathrooms transgendered people can use. It cited "troubling financial implications for the business and investment climate."

"Hate hurts businesses' bottom line," New York City Comptroller Scott M. Stringer, one of 40 signatories, said in an interview Tuesday afternoon.

The letter was signed by major investment groups including BlackRock and T. Rowe Price Associates; state pension funds, treasurers and comptrollers; unions; and two faith organizations. Together, they claim to represent 15 percent of all global investment assets.

The effort was led by Stringer and Matthew Patsky, CEO of Trillium Assets Management. The letter noted that almost 92 percent of Fortune 500 companies "have adopted inclusive non-discrimination policies protecting their employees on the basis of sexual orientation."
That's a very interesting statistic in this graf. ALMOST 92 PERCENT OF FORTUNE 500 COMPANIES.
So If Dan Patrick and Greg Abbott get their way by pushing hate, they are pitting themselves against Fortune 500 companies and relegating Texas to be a backwater pit stop.