Seems the grand jurors feel a little insulted by Rick Perry's remarks.
Several jurors said they took exception to Perry's remarks.

One, who asked not to be named, said he expects the public perception to change once the full scope of the prosecutor's case becomes public.

"I think if and when the facts come out, that'll change," the juror said.

All six jury members reached by the Chronicle said they were told it would be illegal for them to discuss the grand jury proceedings. The willingness of some to discuss their thoughts in general terms may indicate frustration with Perry's defense.

Rho Chalmers, who name matches that of a grand juror but would only confirm her service on a jury that ended last week, said grand juries involve careful consideration of facts.

"For me, it's not a political decision," Chalmers said. "That's what a grand jury is about – take the emotion out of it and look at the facts and make your best decision based on your life experience."
"We were asked to serve, we attended eight sessions over the course of five months, we listened to hours of evidence and we formed opinions, and those opinions were not motivated by politics," juror Scott Hillman said. "They were simply motivated by our understanding of the facts as applied to the law."

Hillman called the governor's comments in the days since last Friday's indictment "disrespectful."

"I see him laugh at these charges, and I think he's laughing at the process, and he's laughing at the grand jurors," Hillman said. "We took our role very, very seriously."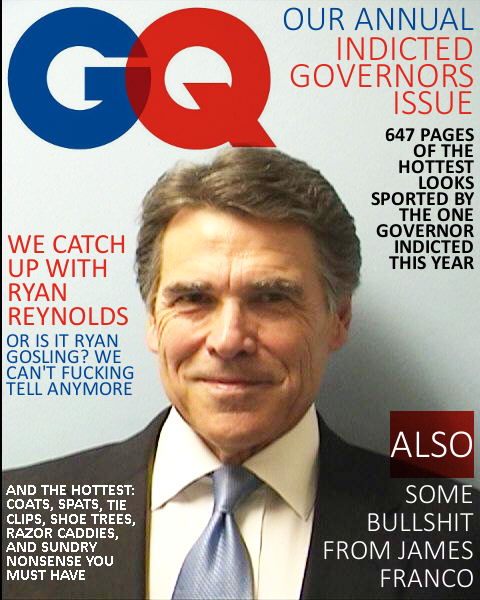 Nobody died and made Rick Perry King
Perry can absolutely veto whatever he wants. That's not the issue. And if he thinks this is a liberal vendetta, then Perry should explain why a Republican judge appointed Michael McCrum special prosecutor. McCrum once served in the George H.W. Bush administration, and in 2009, Sen. John Cornyn, who said the indictments smacked of prosecutorial overreach, nominated McCrum to be a federal prosecutor again in the Western District. For a Democratic conspiracy, there sure are a lot of Republicans in key roles.
...

Can a governor decide who should and should not serve in local elected offices? Show me where the Texas constitution grants him that power, and I'll drop it. I know the Democratic Party died and made him governor, but who died and made him king? This—Perry reaching into a county office and trying to overturn an election—is the actual separation of powers issue at play.

@GhostriderVF142 Two Republican judges and a Republican prosecutor going after a Republican governor is not a witch hunt.

— James Moore (@moorethink) August 19, 2014
So no glasses in the mug shot then. Because the guy in the mug shot is a whole different guy than the presidential candidate.

— Harold Cook (@HCookAustin) August 19, 2014
John Cornyn cries "abuse of prosecutorial power" but has a tiny problem: the prosecutor is the guy he recommended for US Attorney.

— Harold Cook (@HCookAustin) August 17, 2014
Why Rick Perry Will Be Convicted- James Moore
If Perry were able to get Lehmberg to resign, he'd have the authority to appoint her replacement. We can assume that would have been a Republican, and that any investigations might have stuttered to a halt. The DA, however, refused, and began to field threats from the governor's office that the PIU budget was to be zeroed out via line item veto. But the exercise of the veto is not what got Perry indicted.

First, he used the veto to threaten a public officeholder. This is abuse of the power of his office. Presidents and governors frequently use the possibility of vetoes to change the course of legislation. But that is considerably different than trying to force an elected officeholder to resign. What Perry did, if true, can be politely called blackmail, and, when he sent emissaries to urge Lehmberg to quit even after his veto, he may have indulged in bribery. According to sources close to the grand jury, Perry dispatched two of his staffers and one high-profile Democrat to tell Lehmberg if she left her office the governor would reinstate the PIU budget. One report indicates there may have been a quid pro quo of a new, more lucrative job for the DA, which is why this case has nothing to do with his right to use the veto.

But that's where Perry will focus his public defense.

Of course, he will also continue his argument this is another manifestation of partisan politics in Austin. That claim is as misleading as his veto rhetoric. There wasn't a single Democrat involved in the investigation and indictment. In fact, Perry appointed the presiding judge in the case, Billy Ray Stubblefield of the 3rd Judicial District. Stubblefield named retired Judge Bert Richardson of Bexar County (San Antonio) to handle the grand jury investigation, and Richardson picked Mike McCrum to be the special prosecutor in the case. McCrum, who withdrew his name from consideration for U.S. Attorney for the Western District of Texas, had the support of the two Republican Texas U.S. Senators and the state's Democratic officeholders, which hardly makes him a Democratic Party hack. (A Washington gridlock over the confirmation process in the U.S. Senate caused him to withdraw.)

That all makes it hard to sell the partisan attack narrative that reporters are spreading for Perry.

The idea that he was concerned about Lehmberg's drunk driving is also fatuous nonsense. Two other Texas DAs were arrested for DUI during Perry's tenure in office and he spoke not a discouraging word about their indiscretions. Kaufman County D.A. Rick Harrison drove the wrong way into traffic and was found guilty of drunk driving in 2009 and in 2003 Terry McEachern, DA of Swisher County, was convicted of a DUI. Perry said nothing. It's probably only coincidental that both of those individuals were Republicans and did not oversee an investigative unit responsible for keeping elected officials honest in the capitol.
Incidentally, a judge did have the chance to remove Lehmberg and didn't.
one thing is clear: The Texas constitution gives no role to the governor in removing her or any other local officer.

The reason is historical. In 1870, Edmund J. Davis was elected governor by a narrow margin with overwhelming support from newly enfranchised blacks. He had opposed secession and fought on the Union side. As governor, he established a state police that included former slaves and attempted to uphold civil rights laws. He also appointed local officials to support such Reconstruction-era laws.

So when Texans wrote their post-Reconstruction constitution in 1876 — our current constitution — they made sure we would never have another Edmund J. Davis.

The constitution gives the governor no role in removing local officials. It gives that authority, instead, to district judges under a procedure fashioned by the Legislature....Last December, Peeples listened to three days of testimony put on by the Travis county attorney's office on one side and by Lehmberg's lawyers on the other. At the end of closing arguments, Peeples immediately ruled that Lehmberg not be removed. He then sternly told her she should keep a copy of the DVD showing her drunken behavior and view it regularly.
Peeples didn't explain his decision, but questions he asked during the proceedings indicated he was looking for substantial evidence that Lehmberg was likely to repeat the single offense that got her into trouble.

It seems he agrees with what Perry said on "Meet the Press" last spring:

"America is a place that believes in second chances."