Vigils Calling for End to Iraq War Begin
CRAWFORD, Texas - Hundreds of candlelight vigils calling for an end to the war in  Iraq lit up the night Wednesday, part of a national effort spurred by one mother's anti-war demonstration near  President Bush's ranch.
The vigils were urged by Cindy Sheehan, who has become the icon of the anti-war movement since she started a protest Aug. 6 in memory of her son Casey, who died in Iraq last year.
More than 1,600 vigils were planned Wednesday from coast to coast by liberal advocacy groups MoveOn.org Political Action, TrueMajority and Democracy for America. A large vigil was also planned in Paris.
As the sun set in Crawford, about 200 protesters lit candles and gathered around a wooden, flag-draped coffin at Sheehan's growing camp, about a mile from the Bush ranch.
"For the more than 1,800 who have come home this way in flag-draped coffins, each one ... was a son or a daughter, not cannon fodder to be used so recklessly," Sheehan told the crowd.
Anti-war protester and President of Gold Star Families for Peace, Cindy Sheehan (L) of Vacaville, California holds hands with Iraq war veteran Benjamin Hart Viges during a sunset candlelight vigil at her roadside protest near the ranch of U.S. President George W. Bush in Crawford, Texas, August 17, 2005. The vigil was repeated in cities across the U.S. in support of Sheehan, whose military son Casey, 24, was killed in Iraq last year. REUTERS/Jason Reed
Annlinn Grossman joins about 200 demonstrators in support of anti-war protester Cindy Sheehan, whose son was killed in Iraq, during a candlelight vigil, on the north side of the White House in Washington, DC, August 17, 2005. Sheehan, whose military son Casey, 24, was killed in Iraq last year, started her roadside vigil outside U.S. President George W. Bush's Texas ranch August 6 in an attempt to force a meeting with Bush to argue her case for the withdrawal of U.S. troops from Iraq. (Chip Somodevilla/Reuters)
Alexander Hillery (center with candle) joins about 200 demonstrators in support of antiwar protester Cindy Sheehan, whose son was killed in Iraq, during a candlelight vigil, on the north side of the White House in Washington, D.C., August 17, 2005. Sheehan, whose military son Casey, 24, was killed in Iraq last year, started her roadside vigil outside U.S. President George W. Bush's Texas ranch August 6 in an attempt to force a meeting with Bush to argue her case for the withdrawal of U.S. troops from Iraq. (Chip Somodevilla/Reuters)
Ipswich, MA
Tallahassee, FL
Roslindale Square, MA
Cape May, NJ
Glen Elyn,IL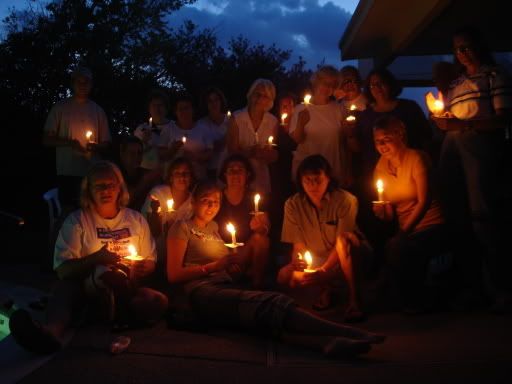 Fort Worth, TX
Albuquerque
Kalamazoo, MI
Evanston, IL
Cleveland, OH